Silver Prices Struggle to Hold On [Details]
Share This Article

---
Silver prices dropped hard Friday as investors went back to equities. While the stock market closed down from the pre-holiday high, it was still a fairly strong showing for stocks compared to other investment groups.  Precious metals and other safe-haven trades took it on the chin Friday, with SLV down on a big-volume day.  That's not usually a good sign for bulls short-term.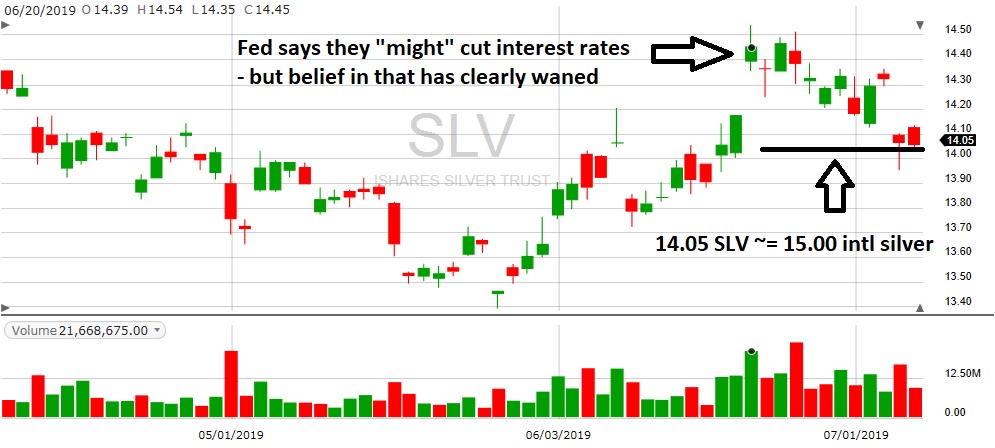 (credit Fidelity.com)
So we're back to looking at the chart to see how bad it is, and where our trading decision points are. Your friendly Gold Enthusiast would argue that for silver, we're sitting on it right now.  International silver is at 15.04 in pre-market New York trading, having gained enough cents to climb back above 15.00. There is a case to be made on the overnight 5-minute chart that 14.85 might be a more precise support level than 15, but as we're not looking to go short quite yet we'll just keep that knowledge in our back pocket for now.
For most regular investors, SLV is the easiest way to trade silver in the US markets.  The current equivalent to 15.00 international silver in SLV is 14.05, so we'll be keeping an eye on that in the coming days.
The other thing the SLV chart shows oh-so-clearly is how investors have adopted a real "safe-haven" view of silver.  Silver popped on June 20 when the Fed indicated they saw warning signs in the economy and might cut rates.  Normally falling interest rates are bad for precious metal prices, but the fear of recession triggered a relative stampede into silver.  News then about the gold-to-silver ratio hitting a fresh all-time high probably helped direct some traffic to silver that might have gone to gold.
But as the chart shows, interest in silver waned almost immediately, with the metal not going any higher than it did that day. In fact, it's been the opposite – silver has lost ground on more days than it's made ground. Now that we're back down on support we'll have to see whether there is enough interest to keep silver in the current trading range, or if it's back to the basement…
Signed,
The Gold Enthusiast
DISCLAIMER: The author is long the silver sector via small positions in PAAS, SVBL, and AGQ. He may sell the AGQ position if SLV closes below 14.05 for reasons discussed in this article, but has no intentions of trading the other positions in the next 72 hours.
---
---
9 "BUY THE DIP" Growth Stocks For 2020
Read Next
---
---