Peter Krauth: Silver Wheaton Corp. (NYSE:SLW) practically invented the streaming business model. Established in 2004 with a main focus on silver, Silver Wheaton is now the largest precious metals streaming company in the world.
What exactly is streaming?
A silver or gold "stream" is a contract that allows the owner to purchase, in exchange for an upfront payment, all or a portion of the byproduct silver or gold produced by a mine it neither owns nor operates.

This model is beneficial to both parties. The streaming company gets large quantities of silver or gold production for many years at what is often a huge discount to the market price. Silver Wheaton, for example, pays about $4 per ounce of silver and $400 per ounce of gold.
In return, the producer gets a large, upfront cash infusion, typically used to finance construction or expansion. It also gets an ongoing payment for each ounce delivered.
From an investing standpoint, SLW stock is a great way to play the precious metals space. It comes with less risk than investing in miners, while still offering upside potential.
Take a look…
Silver Wheaton's (NYSE: SLW) Advantage over Silver Miners
Like other royalty-type companies, SLW's investments are upfront. They have no downside risk associated with production, expansion, exploration, and most other cost risks borne by mining companies.
One of the most attractive features of Silver Wheaton's business model is how the streaming deals are structured.
You see, SLW offers massive potential upside over time since most streams are what's called "life of mine." As partner mining companies continue to explore, discover, and often expand their resources at existing projects, it often leads to an extension of mine life and greater ultimate production volumes than originally expected. That expanded production will benefit SLW in the future, and at no further cost beyond the fixed purchase price for each produced ounce.
SLW also gains from its share of the expanded resources, without having to contribute to the costs associated with that expansion.
But here's the biggest advantage Silver Wheaton has over regular silver miners:
Ultra-low fixed cash costs. In 2014, those were $4.14 per silver ounce. That's forecast to rise slightly to $4.55 by 2019. This cost structure provides considerable leverage to the price of silver since such a large portion of the silver price ends up as profit for the company.
And with silver prices moving higher, this is good news for SLW – and for investors.
Diversification Through Multiple Assets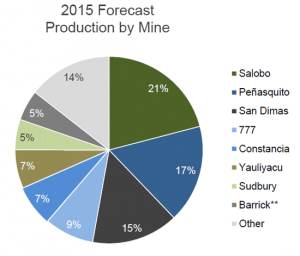 Silver Wheaton benefits from 21 producing and 6 developments assets, which provides great diversification compared to other silver producers. Additionally, many of the assets are in areas considered to carry relatively low geopolitical risk.
The company's income is sourced from streams with some of the largest mining companies, including Barrick Gold Corp. (NYSE: ABX), Goldcorp Inc. (NYSE: GG), Vale SA (NYSE ADR: VALE), Glencore Plc. (LON: GLEN), and Eldorado Gold Corp. (NYSE: EGO).
They also have agreements in place with Lundin Mining Corp. (OTCMKTS: LUNMF), Hudbay Minerals Inc. (NYSE: HBM), Pan American Silver Corp. (Nasdaq: PAAS), and many others.
Today, SLW boasts more silver reserves (the highest-quality ounces) than any other silver company anywhere, around 750 million proven and probable ounces. More than 88% of SLW's production is from assets that are in the lowest-cost quartile. Estimated growth from 2014 to 2019 is a whopping 40%, from 35.3 million ounces to 51 million ounces.