David Fry:  There may have been some understandable skepticism when the Global X FTSE Colombia 20 ETF (NYSE:GXG) was launched in 2009. After all, when Americans thought about Colombia (if they did at all), the first things that came to mind might have been narco-terrorism and Pablo Escobar; not a land of investment opportunity. But a lot has changed in the Latin American nation in recent years. The government has made great strides towards combatting the violence and kidnapping that made the country infamously unsafe in the past few decades, and has made significant advances in weeding out institutional corruption.
Blessed like many South American countries with abundant natural resources, and with the fourth largest economy in Latin America, Colombia stands to gain handsomely from rising commodity prices worldwide. Some of the country's main exports include oil, coal, coffee, and gold, and it is also the world's leading supplier of emeralds. Colombia and the U.S. have also recently signed a free trade agreement, which should increase trade between the two countries. The United States is currently Colombia's most important trade partner. It was ratified by Colombia in 2008, and more recently by the U.S. in 2011.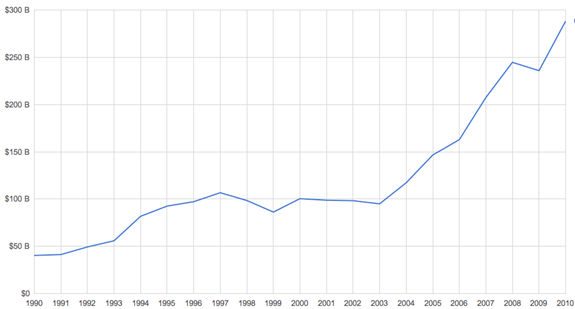 Colombia's GDP has risen considerably in the last two decades, from under $50 billion in 1990 to nearly $288 billion in 2010, with an especially steep rise since 2003.
GXG seeks to track the FTSE Colombia 20 Index, which is composed of a basket of the 20 most liquid securities in the Colombian market. The fund is heavily weighted in Materials (26%) followed by Financial Services (21%) and Energy (14%). Its number one holding is Ecopetrol SA with a 14% allocation, followed by BanColombia SA at 13%. It has a relatively high expense ratio of 0.78%.
GXG's top three sector allocations are Materials, Energy, and Utilities, and its top ten holdings account for about 70% of its assets under management.
Given Colombia's explosive growth, perhaps GXG's extraordinary performance since the market bottom in 2009 should be unsurprising. Since 2009 the ETF has seen gains of 209%, and it's currently trading at $21.33.
GXG isn't the only Colombia ETF game in town either. The Market Vectors Colombia ETF (NYSE:COLX) also provides exposure to the Colombian market with a slightly lower expense ratio (0.75% vs 0.78%) and less heavily-concentrated holdings. It has just 10.7% invested in its number one holding, BanColombia, followed by Ecopetrol SA with 9.5%, but it has seen extremely light volume; its 3 month average daily volume is just 526 shares. Compare that to GXG's average volume of 98,598.
GXG (blue) has outperformed COLX (red) for the past several months, but COLX has performed better in market downturns (November-December 2011).
Written By David Fry From ETF Digest
David is founder and publisher of ETF Digest and best selling book author of Create Your Own ETF Hedge Fund, A DIY Strategy for Private Wealth Management published by Wiley Finance in 2008.  In July of  2009, Fry was named in the ETF Hall of Fame as one of the Top 25  people who revolutionized the ETF industry and guided ETF investing from its conception to widespread acceptance among all breeds of investors. Fry founded the ETF Digest in 2001 and was among the very first to see the need for an online publication that provided  individual investors and financial professionals with trading tools, market information and actionable advice on ETF investing. ETF  Digest was recently ranked 9th in the Top 100 ETF websites from Alexa on exchange traded funds. Dave Fry has devoted over 35 years to the business of trading and  portfolio management. He is registered as an  arbitrator with the  Financial Industry Regulatory Authority (FINRA)  and the National Futures Association (NFA).