Chris Vermeulen: During the past couple months several indexes, sectors and commodities have sold off more than 10 – 20%. But now some are looking like new buying opportunities. Over the next week I will bring a few of these trades to your attention as they start to unfold.
Today we are looking at the TAN solar ETF. This sector recently had a 23% hair cut in price. A 20-25% correction in price is a typical intermediate correction for a fast moving sector. The price correction has pulled the sector down to its 150 and 200 simple day moving averages. These levels tend to act as long term support for investors, a buying point.
Many of the individual stocks within this sector are starting to pop and breakout of bullish price patterns. These individual stock prices point to higher prices for TAN going forward.
Be aware of crude oil…. I do think that as long as the price of crude oil stays up solar stocks will continue to rise overall. But if oil starts to roll over and break down, TAN will struggle.
My Technical Take on The Chart:
Big picture analysis shows a powerful uptrend with bullish consolidation.
Intermediate analysis shows a falling bullish wedge, test of moving averages, and a reversal breakout pattern.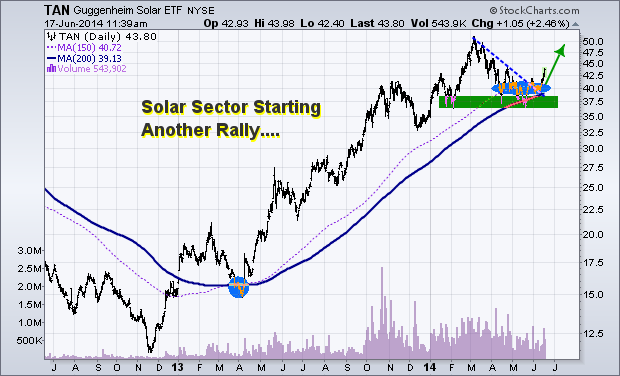 Short term analysis shows we are at a resistance level and we will likely see a pause of pullback over the next few days before it goes higher.