Thomas Carreno: The stock market indices including the Nasdaq Composite, sp500 and Dow Jones Industrial Average may all be at ideal junctures for the initiation of an approximate five to ten percent correction.
Here at BestOnlineTrades I did a previous forward looking type posting that speculated on the initiation of a correction in the Nasdaq Composite.  I tried to identify the possible outcomes based on a comparison between the Jakarta Composite index and the BSE Bombay Stock Exchange (India).  My premise was that the Nasdaq Composite was unlikely going to surpass the key 2007 spike high resistance without some type of meaningful correction. 
The main isssue was/is exactly when the Nasdaq would initiate a correction.  Right at the previous 2007 highs? Slightly before it ?  Or after some initial trading above it.
It could be that we are about to start the correction this week 'slightly before' the 2007 highs of 2860 on the Nasdaq.  A similar occurrence played out with the BSE index.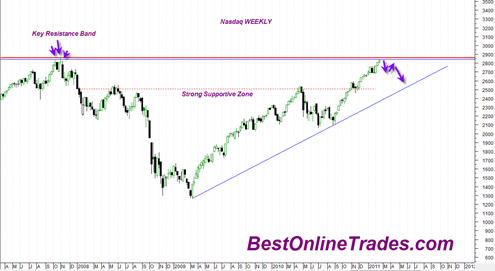 I also notice that the Financial Select Sector SPDR ETF (NYSE:XLF) is still right now sitting right at its April 2010 highs and would also be in an ideal spot to start a corrective move down. 
The sp500 still has very strong channel support in the 1300 to 1310 range.  Unless this channel is broken down under the 1300 range then one still has to presume the bullish nature of this channel will hold up.
2760 on the Nasdaq Composite is a good short term support as well as up trend line channel support.  Breaking under 2760 could be a much better sign that we are ready for a heavier correction.  Only 5 trading days left in February is also important in that it will eventually reveal the monthly February candlestick.  If we somehow manage to get a deep 5 day correction going, it could potentially create a large topping tail on the February 2011 price candlestick which would possible help the 'heavier' correction theory after February.
Finally, a little healthy speculation makes me sense that the metals are about to decouple from the stock market a bit on the current 'Middle east crisis'.  It could lead to a continuation of the current parabolic move in the metals that seems to be cycling up again.
ETF Daily News notes some related ETFs: Direxion Daily Small Cap Bear 3X Shares (NYSE:TZA), ProShares UltraShort Dow30 (NYSE:DXD), ProShares UltraShort S&P500 (NYSE:SDS), Direxion Daily Financial Bear 3X Shares (NYSE:FAZ),  ProShares UltraShort Financials (NYSE:SKF), iPath S&P 500 VIX Short-Term Futures ETN (NYSE:VXX), SPDR S&P 500 (NYSE:SPY), Direxion Daily Small Cap Bull 3X Shares (NYSE:TNA), Direxion Daily Financial Bull 3X Shares (NYSE:FAS).
Written By Thomas Carreno From Best Online Trades 
I started 
Best Online Trades
because I really enjoy trading and I also enjoy writing about trading.  Writing about trading or trading strategies helps transfer thoughts that would otherwise stay in 'theory' and helps move them to more concrete form for me. And hopefully along the way you will pick up something useful as well. 
BestOnlineTrades
covers many different aspects of trading, from commodities to stocks, from indices to ETF's.
Want More Great Investing Ideas?