The VIX Is About Volatility, Not Fear
The moral of the story is there is nothing wrong with having the VIX in your stock market toolkit. However, the VIX needs to be used in the proper context to be more helpful to longer-term stock investors. FromYahoo Finance:
Today the VIX sits below 11.50 and stocks are slightly higher despite weak earnings and a widely expected, but still ugly, negative print in first quarter GDP. Rather than interpreting the market action as complacency traders are generally just accepting that the VIX is lower because the market is open for business. The thing is, the VIX never measured "fear." It measures expected volatility. If 11.5 seems like a low print that's only because you aren't putting it in the context of single-digit trailing volatility. The VIX is low for a reason and that reason is that stocks simply aren't going down in large enough gaps to justify paying much for insurance.
GDP and The Fed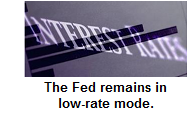 The market's pricing mechanism has an almost infinite number of moving parts. One of the important parts is Fed policy. Thursday's weaker than expected read on the economy makes it easier for the Fed to stay committed to their low interest rate pledge. From The Wall Street Journal:
Investors shrugged off the GDP report, saying that it reiterated what is already known: the economy was sluggish in the first three months of 2014, in large part because of harsh winter weather. Traders said the latest GDP report does little to change the monetary-policy trajectory of the Federal Reserve, which is reducing its bond purchases but remains committed to keeping interest rates low for an extended period. "Volumes are beyond anemic," said Dave Rovelli, managing director of equity trading at Canaccord Genuity. "There's no reason to sell stocks if the Fed is going to be on your side." Gains were shallow but broad. Seven of the S&P 500's 10 sectors rose, with shares of companies in the consumer-staple and health-care sectors leading the way.
Investment Implications – No Need To Anticipate
Have stocks corrected after the VIX hit low levels? Yes, we can find numerous historical cases where a rising VIX occurred during a weak period for equities. Regardless of what the VIX does, we know one thing with 100% certainty; the stock market cannot morph into a multiple-month correction or a bear market until the chart of the S&P 500 begins to break down. How vulnerable does the broader stock market look right now? Not very vulnerable.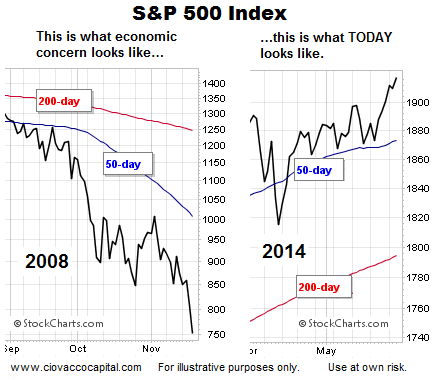 This video clip explains why the charts above are helpful. Is using moving averages a perfect way to manage portfolio risk? No, but used in conjunction with other economic and technical inputs, it can help us stayed aligned with the market's risk-reward profile.