One half hour into today's trading, I would expect to see some evidence that the recent spike in volatility in stocks is subsiding. That seems to be the case, as the VIX opened at 27.21 and is now just over 26.00.
Before volatility falls any farther, I will be looking at some possible or buy-write (covered call) trades with the new weekly options that are expiring tomorrow.
When I screen for buy-write candidates, I generally start with a screen for the highest implied volatility stocks, ETFs and indices, then qualify these on liquidity terms, examine the proximity of the current price relative to the various strike prices, then review the charts for some of the finalists and add some sort of secret sauce at the end to come up with trades that fit my objectives.
In the graphic below, I have included all of the weekly options in which the underlying has an implied volatility is at least 30. The list has 18 candidates and prominently atop that list is the triple ETF pair for the financial sector: Direxion Daily Financial Bear 3X Shares (NYSE:FAZ) and the Direxion Daily Financial Bull 3X Shares (NYSE:FAS). Going down the list, Ford (NYSE:F) and Bank of America (NYSE:BAC) show excellent liquidity, while Apple (NYSE:AAPL) is hovering just under an important round number and strike.
Enterprising souls may even consider buy-writes on both (NYSE:FAS) and (NYSE:FAZ).
Volatility is up and the end of the week is nearing. Anyone looking at a buy-write strategy should take a close look at earnings for today and tomorrow which may impact the market, as well as a number of economic reports due out tomorrow morning, most notably the July retail sales data.
For more on related subjects, readers are encouraged to check out: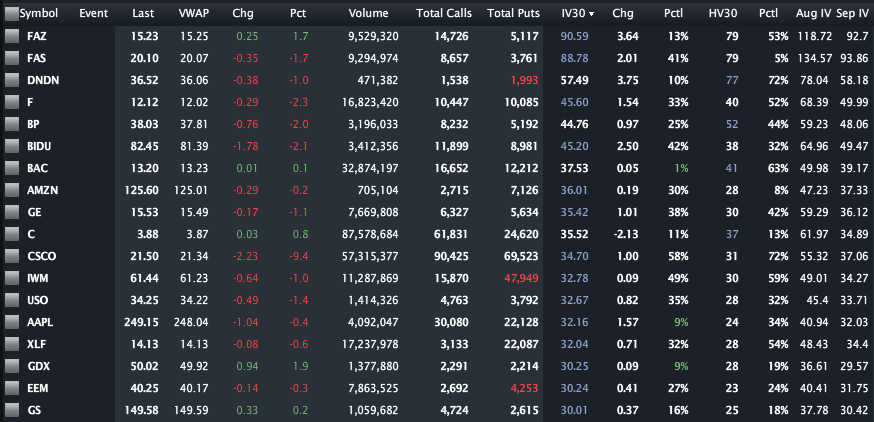 [source: Livevol Pro]
Disclosure(s): short VIX at time of writing; Livevol is an advertiser on VIX and More
Bill is a private investor who also authors the VIX and More (http://vixandmore.blogspot.com/) blog and an investment newsletter from just north of San Francisco. His research and trading interests focus on volatility, market sentiment, technical analysis, and ETFs. Prior to becoming a full-time investor, Bill was a business strategy consultant for two decades and advised clients across a broad range of industries on issues such as strategy formulation, strategy implementation, and metrics. When not trading or blogging, he can often be found running, hiking, and kayaking in Northern California. Bill has a BA from Stanford University and an MBA from Carnegie-Mellon University.
Want More Great Investing Ideas?