Jay Taylor:  Earnings season is upon us once again! Earlier I shared with you a calendar of earnings reports I consider to be the most important. Here I'll describe why I think so and group the stocks together with other similar stocks.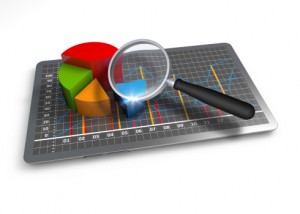 Below is why roughly 40 stocks matter to you.
It may seem a little daunting to track dozens of stocks instead of just a few. I get it. That's why, instead of offering you ten stocks to watch during earnings season, I've put together ten groups of earnings reports to watch. This is the first part of that list.
Some of these earnings reports offer a glimpse at the economy as a whole. Others offer us a new chapter in the tale of a battleground stock.
Earnings Reports to Watch #1: Backbone-of-the-Economy Stocks
CSX (NYSE: CSX) operates trains that move our goods. Caterpillar (NYSE: CAT) produces the machinery that moves the earth and drives the economy. FedEx (NYSE: FDX) ships items around the world and provides other services to businesses.
These are three of the earnings reports I am most interested in. Strong results from these three companies signals strength in the economy. Weakness from these three companies signals the opposite.
Pay attention to these three earnings reports, as many investors use them as a way to gauge the overall strength of the economy.
Earnings Reports to Watch #2: Oil Loser Stocks
As oil prices are dipping further and further, so too are many oil-related stocks.
The last time SeaDrill (NYSE: SDRL) declared earnings the company announced that it was cutting its dividend, sending the stock lower by more than 20%. Shares of the deepwater rig company are more than 75% below its 52-week high. Even if the stock doesn't bounce after earnings, the management's commentary should offer great insight into what is happening in the industry.
The same is true for the earnings reports of ExxonMobil (NYSE: XOM), Halliburton (NYSE: HAL),Transocean (NYSE: RIG), Baker Hughes (NYSE: BHI), and Slumberger (NYSE: SLB). These companies may be feeling the pain but what management says – and how it says it – is really important to me this earnings season.
Theoretically electric car-maker Tesla Motors (Nasdaq: TSLA) and the solar energy industry's rising star SolarCity (Nasdaq: SCTY) are likely losers with cheap oil making electric alternatives less appealing. However, I'm of the mind that these two companies are winners over the long run so I'm very interested to see how they do in a cheap-oil world and what management says about the future.