You see, Musk is viewed as one of the boldest and most innovative chief executive officers in the world.
That's part of the reason why Tesla stock has seen a meteoric rise of 515% since the start of 2013.
He's also the co-founder of PayPal, Tesla, SpaceX, and SolarCity Corp. (Nasdaq: SCTY).
And in his commencement address last month to the graduating class of the University of Southern California's business school, he said to "Do something bold."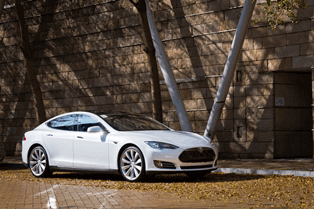 And he's done something bold – again – by opening up all of Tesla's patents for electric vehicles.
In a blog post on Tesla's website, Musk wrote today that the company "will not initiate patent lawsuits against anyone who, in good faith, wants to use our technology."
The decision was made to help energize the electric vehicle market, which Musk says still lags too far behind the traditional auto market.
According to the blog post, new vehicle production is nearing 100 million vehicles annually, and there are nearly 2 billion operational vehicles worldwide.
However, automakers attribute less than 1% of their total vehicle sales to electric vehicles on average.
By opening up all of its patents, Tesla and Musk hope that other automakers will be more inclined to produce electronic cars.
"We believe that Tesla, other companies making electric cars, and the world would all benefit from a common, rapidly evolving technology platform," Musk said.
"Tesla Motors was created to accelerate the advent of sustainable transport," he continued.
"If we clear a path to the creation of compelling electric vehicles, but then lay intellectual property landmines behind us to inhibit others, we are acting in a manner contrary to that goal."
Some have viewed the move as risky, as competitors will now be able to employ the same exact technology as Tesla.
But that's all part of Musk's strategy – a strategy that's going to pay off huge for TSLA stock investors…
What an Expanded Market Means for Tesla (Nasdaq: TSLA) Stock
Musk knows that in order for Tesla Motors and TSLA stock to thrive, the electric vehicle industry must thrive as well.
That's why he's giving his competition a leg up. As the quality of electric vehicles – across the market – improves, demand will increase worldwide.
"Our true competition is not the small trickle of non-Tesla electric cars being produced, but rather the enormous flood of gasoline cars pouring out of the world's factories every day," Musk said.
"We believe that applying the open source philosophy to our patents will strengthen rather than diminish Tesla's position in this regard."
As an industry leader, Tesla Motors is perfectly positioned to ride any demand increases in electric vehicles.
And that's good news for TSLA shareholders.
But unfortunately for investors right now, electric vehicle demand has not reached the point many analysts thought it might.
"Tesla aside, the auto industry's push into [electric vehicles] has fallen far short of expectations,"Morgan Stanley (NYSE: MS) Analyst Adam Jonas said in a report this May.
"Just a few years ago, forecasts for global [electric vehicle] penetration were as high as 5% or 10% by 2020. From today's perspective, we think penetration in the 1% range would be respectable."
Tesla stock has pulled back in the last few months following its meteoric rise of 2013, and in the past three months the stock is down nearly 16%.
Analysts expect that volatility to continue for the foreseeable future. According to a survey by Thomson/First Call, three analysts rate TSLA stock as a "Strong Buy," three as a "Buy," seven as a "Hold," and one as an "Underperform."
"It is a great company; innovative and the cars are beautiful," Chad Morganlander of Stifel Nicolaus' Washington Crossing Advisors told Yahoo! Finance. "The problem is that the valuation is way ahead of itself."
"For more aggressive traders, perhaps you want to play around with it," he said.
"But, from a fundamental perspective and a valuation perspective, I would just be much more conservative with it."
TSLA stock will continue to pull back from record highs.
Short-term investors looking for a quick pop should not buy in to TSLA.
It also isn't the best stock for risk-averse investors looking for safe plays.
It's the definition of a momentum stock, and any investor that purchases TSLA should be thinking of the company's long-term potential.
If the electric vehicle market takes off like Elon Musk hopes, TSLA stock is a great long-term play for investors willing to take some risk.
The company is an industry leader and is run by one of the world's most innovative CEOs.
If the market expands, Musk will capitalize.
Money Morning's Chief Investment Strategist Keith Fitz-Gerald says the long-term potential for TSLA stock is undeniable.
"I think Elon Musk is one of the most dynamic CEOs on the planet, and I believe he has the potential to make Tesla a $1,000 stock within the decade," Fitz-Gerald said.
Written By Kyle Anderson From Money Morning
We're in the midst of the greatest investing boom in almost 60 years. And rest assured – this boom is not about to end anytime soon. You see, the flattening of the world continues to spawn new markets worth trillions of dollars;new customers that measure in the billions; an insatiable global demand for basic resources that's growing exponentially; and a technological revolution even in the most distant markets on the planet. And Money Morning is here to help investors profit handsomely on this seismic shift in the global economy. In fact, we believe this is where the only real fortunes will be made in the months and years to come.