Kyle Anderson:  Tesla Motors Inc (NASDAQ:TSLA) reports Q3 earnings after market close today, which means it'll be a wild day for TSLA stock.
Tesla is always volatile around earnings reports. In the second quarter, TSLA stock jumped 5% the day after it beat EPS estimates by $0.07. TSLA stock dipped more than 6% on May 7 even after the company beat Q1 earnings by $0.02 per share.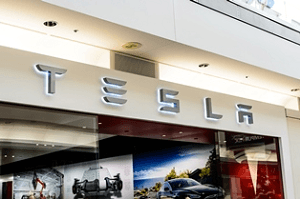 So how the stock moves after today's report won't necessarily coincide with the EPS results.
Tesla has beaten earnings expectations the last four quarters. This quarter, analysts predict an EPS loss of $0.01 on $889.3 million in revenue. That's a drop from the $0.12 EPS Tesla had last year, but an increase of 47.6% in revenue.
But those aren't the Tesla numbers we are most interested in from today's report. In fact, here are the figures that will have a much bigger impact on TSLA stock's performance than EPS has…
TSLA Stock: Biggest Numbers in Today's Earnings
Tesla Earnings Figure to Watch No. 1: The first big figure to watch today will be the number of vehicles delivered in the quarter. Previously, the company projected 7,800 sedans delivered in Q3.
If CEO Elon Musk's Twitter account is any indication, Tesla will beat this delivery goal. On Oct. 27, he tweeted that September was a record month for sales.

At the beginning of 2014, Musk projected full-year delivery of 35,000 Model S sedans. Through the first two quarters Tesla delivered just over 14,000. Even if the company meets its goal for Q3, Tesla will still need to deliver more than 13,000 vehicles in Q4 to reach its monthly goal. That could lead to a letdown next quarter.
Tesla Earnings Figure to Watch No. 2:Another key to today's earnings report is production. Last quarter, Tesla set guidance figures of 9,000 to 11,000 sedans.
In July, the company was producing 800 vehicles per week and had set a goal of 1,000 per week by the end of the year. Weekly production of 900 today would have Tesla on target to meet its goal.
Tesla Earnings Figure to Watch No. 3:Finally, keep an eye on Tesla's gross margins. Last quarter, TSLA reported margins of 27%. The company expects that to remain flat.
By the end of the year, Musk is targeting 28% for gross margins. That would be a huge success for the company as it continues to invest heavily in expanding its Supercharger network both domestically and internationally.
Meeting these three goals would be a big win for TSLA today.
Investors should also watch closely for any updates on the Tesla Gigafactory. Previously, Musk said he wanted to begin construction by the end of the year, so an update in the coming weeks is likely.
Want More Great Investing Ideas?