Abby Higgs: Is Elon Musk actually Batman? Because he created a real-life Batmobile…
Musk, founder of Tesla Motors Inc (NASDAQ:TSLA), has given Tesla drivers a thrill (wait until you see the video) with a crazy little button on the new Tesla Model S P85D.
The latest S model is equipped with dual ultra-energy-efficient motors that allow it to achieve a top speed of 155 mph.
The best part about it is the digital toggle button on the car's dashboard screen – the one marked "Insane Mode."
This new Model S P85D feature has customers exhilarated, as you can see…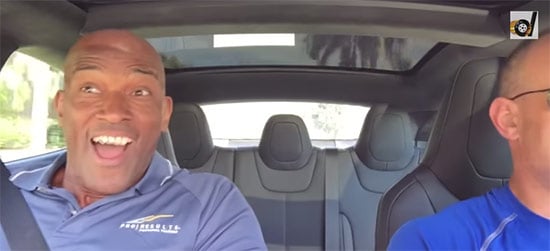 So what exactly does "Insane Mode" do?
How the New Tesla Model S P85D Insane Mode Works
Pressing the Batmobile-like Insane Mode button shoots the car from zero to 60 mph in 3.2 seconds flat.
It's the stuff of Lamborghini Diablos (zero to 60 mph in 4 seconds) and McLaren F1 supercars (zero to 60 mph in 3.2 seconds).
Drivers must bring the Model S P85D to a complete stop before toggling the aptly-labeled digital button.
From there, the car accelerates to roughly 60 mph within the span of a few seconds… (just enough time for your life to flash before your eyes.)
Just watch these hilarious rider reactions compiled by DragTimes, a YouTube channel devoted to testing the top speeds and acceleration capabilities of the fastest vehicles known to man:
There are a variety of other distinctive features on the Model S P85D, which debuted Oct. 9, 2014…
The car now has the ability to read speed-limit signs and adjust its velocity accordingly.