At first glance, the Model X is an extremely attractive luxury SUV. Most importantly, the car gets superb safety ratings, with automatic braking, radar and sonar sensors to help in an emergency. Compared with other sport utility vehicles, the Model X is much lower to the ground. That considerably decreases the risk of a rollover in an accident.
For those seeking thrills and high performance, the Model X won't disappoint. It accelerates from 0-60 mph in just 3.2 seconds. That means its acceleration is on par with a Ferrari Enzo or Lamborghini Gallardo, even though its top speed of 155 mph falls short.
Like Tesla's renowned Model S sedan, the new Model X offers a solid range of 250 miles. The SUV can pull 5,000 pounds and has seating for seven people.
Elon Musk describes the rear doors as "Falcon Doors." As a parent with twins, he designed them with families in mind. These doors make it easier to put kids into a car seat. And similarly, they allow easy access to the third row of seats. As a parent with three small kids, I can sympathize with the challenges of getting kids into and out of the car.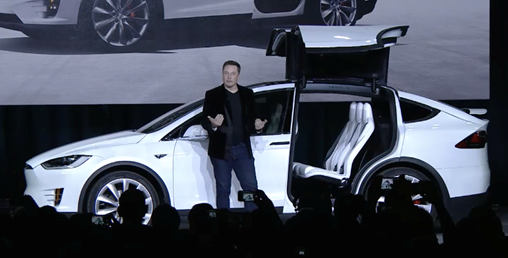 Tesla Motors CEO Elon Musk shows off the new Tesla Model X.
As a car enthusiast, these doors remind me of the beautiful Mercedes-Benz 300 SL from the late 1950s and early 1960s. The car is still commonly called a Gullwing, thanks to its revolutionary styling.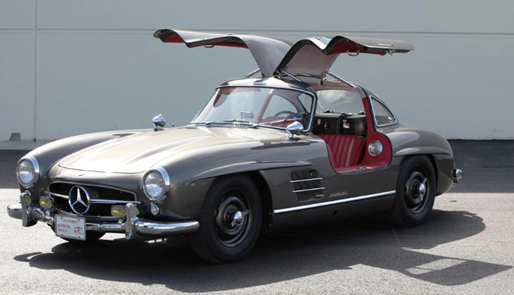 1957 Mercedes-Benz 300 SL for sale at $2.095 million.
Compared with $2 million for a 1957 Mercedes Gullwing, the Tesla Model X is a bargain and offers superior performance. In fact, it will be priced at $130,000. That's a premium to the top of the line Model S, which sells for a base price of $105,000.
Musk reports that 25,000 customers have pre-ordered the Model X online or in stores. Assuming that all those orders are fulfilled, that would generate roughly $3.3 billion in sales for Tesla.
The initial reception for the Model X has been extremely positive. The Tesla website tells customers that new orders will be delivered in the second half of 2016.
In August, Tesla Motors indicated that it would produce 50,000 to 55,000 Model S and Model X vehicles in 2015. Next year's production capacity of 83,200 to 93,600 vehicles represents a 90% increase from 2015.
Growing capacity is expected to help send Tesla Motors sales up 59% in 2016. Meanwhile, the 18 analysts following the stock have a consensus EPS estimate of $2.45. Those profits are a huge improvement from the per-share loss of $0.83 that's expected for 2015.
Global economic growth remains slow, and that makes Tesla attractive. Very few companies with more than $5 billion in revenues are able to grow sales at a blazing 59% pace.
That growth has helped Tesla shares hold up, even as global stock markets have sold off. For example, year-to-date gains of 12% for Tesla are well ahead of the 7% decline for the S&P 500.
For the time being, investors are paying a pretty penny to own this growth stock.  At a recent share price of $248, Tesla stock trades at 101 times 2016 EPS estimates.
That rich valuation puts Tesla Motors stock on par with other growth stock favorites such as Amazon.com (NASDAQ:AMZN) at 105 times earnings, Netflix (NASDAQ:NFLX) at 332 times earnings, and Salesforce.com (NYSE:CRM) at 71 times earnings.
Readers know I've been a big fan of Tesla Motors. I first recommended the stock back in February 2013.
At the time, I told my readers:
"In just a few years, Tesla will be transformed from a tiny niche player into a sizable and exclusive producer of electric cars. Savvy investors who understand the opportunity and are willing to invest while Tesla is in the early innings could be big winners. It is for this reason that I'll be adding Tesla Motors as a position in my real-money portfolio."
At the time, Tesla Motors stock was trading at less than $40 per share.
I recommended Tesla shares again on April 8 of this year, when the stock was at $203:
"Speculative investors are advised to accumulate a small position in Tesla around $200 per share. I'm optimistically expecting shares to rise to the $240-$250 level over the next six to 12 months, as the news turns positive and the next generation Tesla car becomes a reality."
Readers who acted on that most recent alert – just six months ago – could be sitting on a quick 22% gain.
The biggest gains from Tesla are likely in the past. If you're looking to get invested in the next big thing, you need to check out this huge Silicon Valley profit opportunity.
Full Disclosure: I currently own shares of Tesla Motors.
This article is brought to you courtesy of Ian Wyatt from Wyatt Investment Research.