Tesla has always been a momentum stock that experiences sharp ups and downs depending on the company's news, and this week's spike is a prime example.
TSLA stock gained nearly 9% on Monday following reports that Nissan Motor Co. Ltd. (OTCMKTS ADR: NSANY) and BMW AG are in collaborative talks with Tesla to help expand electric vehicle (EV) charging technologies.
The three automakers account for 80% of the world's EV sales combined, and, together, the companies are looking to solve one of the industry's biggest problems: vehicle charging.
EVs have different charging standards depending on the brand, making it impossible for a Nissan owner to charge his or her car on a Tesla charger, and vice versa. Universal charging standards would benefit all electric car makers, as consumers could more easily power their vehicles.
Concern over access to chargers, or "range anxiety," is thought to be one of the biggest factors holding back the EV market.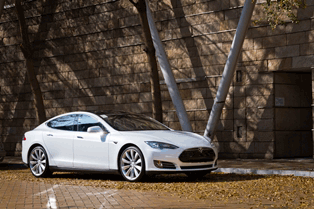 "It is obviously clear that everyone would benefit if there was a far more simple way for everyone to charge their cars," one executive who declined to be named told The Financial Times.
Yesterday's news followed last week's bold announcement from Tesla Chief Executive Officer Elon Musk that he would open up all of the company's patents to his electric-vehicle competitors. Musk noted that by sharing Tesla's patents, other car manufacturers could help expand and improve the EV market.
"Our true competition is not the small trickle of non-Tesla electric cars being produced, but rather the enormous flood of gasoline cars pouring out of the world's factories every day," Musk said. "We believe that applying the open source philosophy to our patents will strengthen rather than diminish Tesla's position in this regard."
The news of the three largest EV manufacturers joining forces carried into TSLA's performance today as the stock gained more than 4% by Tuesday afternoon.
For investors wondering what TSLA stock will do now, here's what they can expect…
Where Tesla (Nasdaq: TSLA) Stock Is Headed Now
In the short term, volatility will remain the name of the game for Tesla stock, just as it has over the past 18 months.
From January 2013 through February 2014, TSLA soared an incredible 637%. From there, the stock sold off more than 15% from March through May. Now, this week's gains have put TSLA up 12% for the month of June.
It's almost impossible to predict how TSLA stock will perform day to day, as the slightest hint of good or bad news moves the stock considerably. For that reason, TSLA is not a short-term play.
But for investors looking for long-term growth, TSLA is an attractive option.
Backed by Musk – one of the world's boldest and most innovative CEOs – Tesla is hell-bent on changing the landscape of the automotive industry, regardless of what it takes. That was evidenced last week when he gave away his EV technology secrets to his biggest competitors.
"Tesla Motors was created to accelerate the advent of sustainable transport," said Musk. "If we clear a path to the creation of compelling electric vehicles, but then lay intellectual property landmines behind us to inhibit others, we are acting in a manner contrary to that goal."
Tesla's biggest competitors appear on board with Musk's strategy, and that's good news for TSLA shareholders. Rather than taking Tesla's patents and using the information for themselves, they have decided that collaborating and improving the world's EV charging infrastructure will help all EV manufacturers.
Money Morning's Chief Investment Strategist Keith Fitz-Gerald also says the long-term potential for TSLA stock is undeniable.
"I think Elon Musk is one of the most dynamic CEOs on the planet, and I believe he has the potential to make Tesla a $1,000 stock within the decade," Fitz-Gerald said.
Written By Kyle Anderson From Money Morning
We're in the midst of the greatest investing boom in almost 60 years. And rest assured – this boom is not about to end anytime soon. You see, the flattening of the world continues to spawn new markets worth trillions of dollars;new customers that measure in the billions; an insatiable global demand for basic resources that's growing exponentially; and a technological revolution even in the most distant markets on the planet. And Money Morning is here to help investors profit handsomely on this seismic shift in the global economy. In fact, we believe this is where the only real fortunes will be made in the months and years to come.