Jack Delaney:  The seemingly impenetrable Apple Inc. (NASDAQ:APPL) was hacked through the app store in late September. Dozens of apps infected iPhone and iPad users with malware.
WeChat, one of the affected apps, has 600 million users who could have been exposed to the breach.
It is massive hacks like this that are why Money Morning Chief Investment Strategist Keith Fitz-Gerald just re-recommended this cybersecurity ETF to readers…
PureFunds ISE Cyber Security ETF (NYSE:HACK) is an exchange-traded fund. The fund tracks the performance of companies across the globe that are direct service providers for cybersecurity.
While Apple's breach provides momentum to increase the performance of this ETF in the short term, the cybersecurity sector is looking at years of growth right now…
The research firm Cybersecurity Ventures projects the cybersecurity industry will grow from $77 billion in 2015 to $170 billion by 2020. That's a 54% increase over the next five years.
Money Morning Tech & Defense Specialist Michael A. Robinson highlighted a specific growing source for cybersecurity demand.
"Cybersecurity will remain a growth field for years to come. According to a report from Market Research Media, the federal government will spend $65.5 billion on cybersecurity between 2015 and 2020," Robinson wrote last month.
The government demand is important. But it's not the only reason to consider adding HACK to your portfolio. There are three reasons to buy into this cybersecurity ETF now…
HACK Cybersecurity ETF Cashes In on Rising Breaches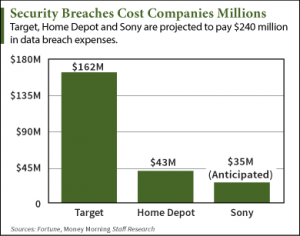 The first reason to consider this specialty ETF is the rise in data breaches and the cost to the global economy.
A report by software company McAfee in June 2014 projected that cybercrime costs the world $400 billion. A maximum estimate is even scarier: $575 billion.
Data breaches were up 23% from 2013 to 2014, according to the Identity Theft Resource Center. The demand for cybersecurity isn't limited to the government: countries, companies, and individuals all have a need for protection.
Cybersecurity is now a necessity. It is no longer a niche industry.
HACK ETF Offers Safer Exposure to Cybersecurity Investments
Investing in any single company will always have its risks. Cybersecurity companies can be even riskier.
It's a younger sector where newer companies utilizing emerging technology have yet to provide investors with a history of successful performances.
But this cybersecurity ETF isn't just an investment into one company…
Fitz-Gerald stated, "HACK is made of 32 cybersecurity companies chosen because they represent companies fighting breaches representing 92% of all data breaches."
This diversification limits the risk of investing in just one company. You increase your exposure to revenue growth from the major players in the industry. You're also limiting yourself to the ups and downs of one particular company.
There's also a sneaky multibillion dollar play in the cybersecurity sector that can help the HACK ETF skyrocket…
Buyouts Offer Cybersecurity ETF Investors an Added Bonus
Cybersecurity companies offer an established infrastructure for technology giants not looking to start developing systems from scratch.
Cybersecurity companies can be used directly by a company for its own cybersecurity operations, or the cybersecurity technology can be sold as a product of its own.