a truly transformational company. So now is probably as good a time as any to take a look at the effect this juggernaut is having not just in the world of technology, but on ETFs.
Just recently Apple Inc. (NASDAQ:AAPL) passed up Exxon Mobil (NYSE:XOM) to become the most valuable publicly held company in the world by market capitalization, at a staggering $504 billion (as of March 8th). This astonishing public valuation has had some unexpected effects that investors should be aware of: chief among them is the risk of overconcentration, as a great many indices and the ETFs that track them are weighted by market cap.
Apple's revenues have skyrocketed.
We've chosen to focus on the following three ETFs that hold Apple, although there are obviously a great deal more, simply to provide a cross-section of the field.
The Powershares QQQ Trust Series (NASDAQ:QQQ) tracks the Nasdaq-100 index. It currently has a full 17.24% of its assets allocated to Apple. The only other QQQ holding that even comes close to this is Microsoft at 9.36%, a little less than half that of Apple. Of the 100 stocks that make up QQQ's benchmark, just 20 of them are weighted at more than 1%, and just four (Oracle, Google, Microsoft, Apple) are weighted at 5% or more.
The Technology Select Sector SPDR Fund (NYSEArca:XLK), on the other hand, is an industry specific (technology) ETF that tracks the S&P Technology Select Sector Index (IXT). Its allocation to Apple is slightly higher, at 17.42%, and Microsoft is again a distant second with 8.42%, with IBM just slightly lower at 8.23%. Apart from these three companies, just AT&T and Google have allocations greater than 5%. Put another way, you would need to add up the bottom 53 companies' weightings to reach Apple's 17.42%.
The Guggenheim S&P 500 Equal Weight Technology ETF (NYSEArca:RYT), on the other hand, is a very different story. Because it tracks the S&P 500 Information Technology Equal Weight Index, no company receives an allocation higher than 1.89%. Indeed, Apple isn't even the number one holding of this fund (at 1.71%, it's fourth), instead the fund's number one holding (1.89%) is LSI Logic Corporation, with a measly $4.83 billion market cap; not even a hundredth of Apple's. This means that rises or falls in Apple's share price do not affect the fund much more than swings in any other holding's share price.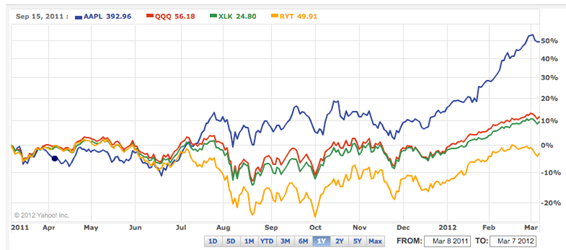 Compare the correlation between AAPL (blue), QQQ (red), XLK (green), and RYT (yellow).
In the first two examples (QQQ and XLK), Apple's influence on the fund is so enormous that it approaches 20% of the funds' holdings. This can be dangerous for investors who already hold Apple, or who are invested in other ETFs that hold Apple, because this can lead to over-concentration. A rise or fall in Apple can end up greatly affecting a number of investments in this way. The old adage still holds true: you don't want to put too many eggs in one basket. As Apple's market cap has exploded, it has become weighted more and more heavily in a variety of funds, from broad-based large caps like QQQ, to sector-specific funds like XLK.
In contrast, because RYT is equally weighted, Apple's influence on the ETF's price is minimized. An investor in this fund gains fairly equal exposure not just to immense companies like Apple, but also to smaller companies.
Written By David Fry From ETF Digest
David is founder and publisher of ETF Digest and best selling book author of Create Your Own ETF Hedge Fund, A DIY Strategy for Private Wealth Management published by Wiley Finance in 2008.  In July of  2009, Fry was named in the ETF Hall of Fame as one of the Top 25  people who revolutionized the ETF industry and guided ETF investing from its conception to widespread acceptance among all breeds of investors. Fry founded the ETF Digest in 2001 and was among the very first to see the need for an online publication that provided  individual investors and financial professionals with trading tools, market information and actionable advice on ETF investing. ETF  Digest was recently ranked 9th in the Top 100 ETF websites from Alexa on exchange traded funds. Dave Fry has devoted over 35 years to the business of trading and  portfolio management. He is registered as an  arbitrator with the  Financial Industry Regulatory Authority (FINRA)  and the National Futures Association (NFA).