Michael Robinson: If you had bought Biogen Idec Inc. (NASDAQ:BIIB) during the depths of this spring's biotech sell-off, you could have been sitting on peak gains of 28.3%.
If you'd picked up Celgene Corp. (NASDAQ:CELG) at the time, you'd be doing even better, with peak gains of 40.9%.
And if you had been really brave, you could have picked up shares of the company that – through a series of Washington political shenanigans – was the "cause" of the sell-off. And you'd be doing very well, indeed.
Since April 11, Gilead Sciences Inc. (NASDAQ:GILD) has scored peak gains of a whopping 74.2% – or more than 175% annualized gains.
Some investors don't want to risk it all during a sell-off by picking and choosing among stocks getting slammed – but they still do want to take advantage of the growth hot biotech stocks offer.
I understand.
So today I want to tell you about a conservative approach to investing.
However, though this investment is conservative, it still offers big money through biotech.
In fact, it's yielded annualized gains of more than 60% so far this year – and there's plenty of upside left to come…
Biotech Stocks to Buy: The Best Pick for Risk-Tolerant Investors
Investors who picked up shares of Gilead before they fully recovered have made 38.7% gains since I recommended GILD on June 19.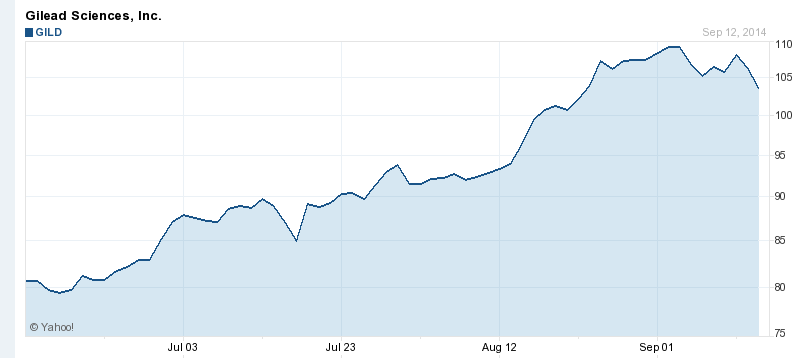 Not bad for a company that Washington politicians said was emblematic of everything wrong with drug companies just a few months ago.
Gilead, a Foster City, Calif.-based biotech that's been around since 1987, received approval in December for Sovaldi, its new hepatitis C treatment.
Sovaldi, I'm telling you now, will go down as one of the most successful drugs ever released.
Ordinarily, the release of an extremely promising drug would be enough to ignite a stock to new levels. And that was in the works until Washington politics and a classic Wall Street overreaction derailed Gilead's success.
Back in March, several influential U.S. House members criticized Sovaldi's $84,000 sticker price. And Gilead sold off, dropping from around $80 to less than $64 in less than a month.
And much of the biotech sector soon followed. The Nasdaq Biotechnology Index sank 22% in about six weeks, hurting everything from tiny startups to huge mutual funds.
At the time, I steadfastly believed that Gilead and the rest of the sector would quickly recover. In other words, biotech was brimming with new buying opportunities.