Kyle Anderson: Small-cap stocks are soaring above the broader market right now, and you can capture those gains now with a small-cap ETF(exchange-traded fund).
Over the last five months, the Russell 2000 has gained 20%. In the same time, the Dow has gained just 9.6%. The S&P 500 is up 10.5% in that time.
And the hot streak isn't over for small cap stocks, according to Money Morning's Small-Cap Investing Specialist Sid Riggs.
He recently saw a major bullish signal in the market that points to even more gains…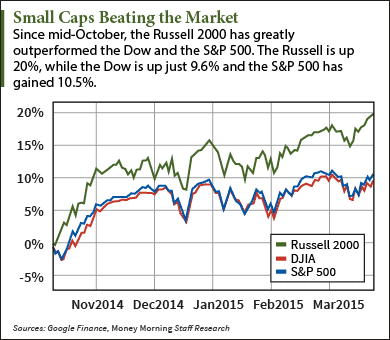 This "Golden Cross" Signal Is a Win for Small-Cap Stocks
The signal Riggs recently observed is called a "Golden Cross." It happens when the Russell 2000's 50-day moving average crosses above the 200-day moving average.
The latest Golden Cross occurred on Dec. 19. Since then, the Russell 2000 has gained 5.9% while the Dow has climbed just 2.1%.
And that's just the beginning of the index's run.
Riggs' research shows that investors who "go long" (invest for over 50 days) after a Golden Cross experience an impressive 78.13% winning percentage with an average return of 17.01%.
Many investors, though, have missed out on this run because they think small-cap stocks are too volatile. But a small-cap ETF is a safer way to collect as these stocks keep rising.
To pick a solid small-cap ETF, Riggs tapped into the strongest sectors.
"It's important to make sure you're investing with global must-have trends that provide strong tail wind," Riggs said. "My favorite sectors right now are biotech, cybersecurity, all-flash memory storage, artificial intelligence, and Chinese consumers – all of which either meet a critical demand for the future or are the future."
The biotech sector in particular has been extremely lucrative for investors in 2015. The Nasdaq Biotechnology index is up nearly 21% in 2015. The S&P Biotech Select Industry Index has done even better, up 27%.
Already this year, subscribers to Riggs' Small-Cap Rocket Alert have pocketed gains of 200% on two separate occasions following two explosive biotech companies.
And Riggs now has an investment that gives you a play on the biotech sector as well as the small-cap "Golden Cross" signal he recently spotted…
The Best Small-Cap ETF to Buy Now
The investment is the PowerShares S&P SmallCap Health Care ETF (Nasdaq: PSCH).
PSCH offers exposure to high-profit small cap stocks without the risk of picking just one tech startup.
"If you're like me, the idea of uncovering the next Apple is very exciting," Riggs said. "But as compelling as a company is, it's critically important to make sure you don't bet the farm on any single company – ever!"
PSCH has 71 stock holdings, all of which are U.S. companies. Over 95% of the fund's holdings are invested in either small-cap or micro-cap firms.