From Fred Imbert, Kate Rooney, & Eustance Huang: Stocks rose on Tuesday, regaining some of the lost ground following a steep sell-off in the previous session, as investors weighed the impact of the escalating trade war between the United States and China.
The Dow Jones Industrial Average rose 250 points, led by a gain in Coca-Cola shares. The S&P 500 advanced 0.9% as tech shares outperformed. The Nasdaq Composite climbed 1.1%.
Boeing and Apple shares gained 2% and 0.8%, respectively, while Caterpillar advanced 1.8%. Bank shares also rose broadly. Citigroup, Bank of America and J.P. Morgan Chase all traded more than 1% higher while Wells Fargo shares climbed 0.7%.
Greg Luken, CEO of Luken Investment Analytics, thinks this is a "dead-cat bounce," however. "I think this is going to last for a while," he said. "This is not something that's going to be resolved tomorrow and anybody who says they know exactly how this will play out is spinning a yarn."
"We've got an administration that is a disruption innovation," Luken added. "Only history will tell us if this is good or bad."
Major U.S. indexes tumbled Monday after news that China plans to raise tariffs on $60 billion worth of U.S. imports, beginning on June 1. The list of targeted goods ranges from TV cameras to tequila, and includes a range of agricultural products. Beijing's move comes after Washington announced last week it would increase tariffs from 10% to 25% on a bulk of Chinese imports.
The Dow and S&P 500 fell 617 points and 2.4%, respectively, their worst performances since early January. The Nasdaq dropped 3.4%, its biggest one-day loss of 2019.
In a note to clients Monday, Citi said its China economists are "cautiously optimistic that a trade deal can eventually be signed." But added that the "window to avoid further escalations in US/China tensions is closing fast."
"Ongoing trade flare-ups may continue to swing the stocks in the near-term, but we think the market may have priced a lot of this in," Citi said.
President Donald Trump tweeted on Monday that China will be "hurt very badly if you don't make a trade deal. " He also said companies would be forced to leave the country without an agreement, adding that China had a "great deal" almost completed but they "backed out." Stocks came off their lows in afternoon trading Monday after Trump said he had not decided if he would slap tariffs on the remainder of Chinese goods.
Trump also tweeted on Tuesday the U.S. is in a "much better position now than any deal we could have made," noting that "billions of dollars" are returning to the U.S.
According to the Washington Post, the office of the U.S. Trade Representative has already gone ahead with first steps on slapping tariffs on roughly $300 billion of Chinese imports.
Mike Wilson, Morgan Stanley's chief U.S. equity strategist, told clients in a note Monday that higher U.S. tariffs on Chinese goods will likely turn into a headwind for corporate earnings — and the economy could fall into a recession if the country's trade war keeps escalating.
Stocks doing business in China got hit the hardest. Apple, Intel and Caterpillarhave all stumbled more than 10% in the six trading days since Trump's surprise tweet announcing the higher levies.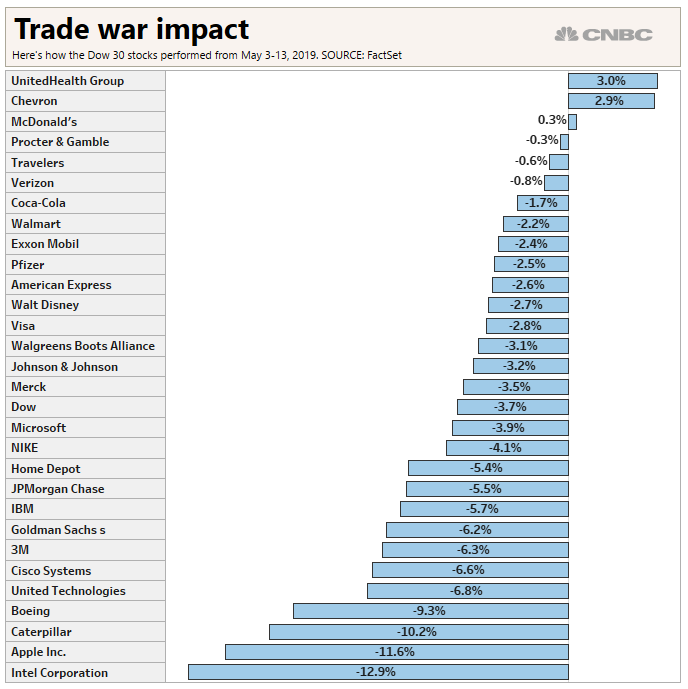 Coca-Cola shares rose 2.4% after Morgan Stanley upgraded it to overweight from equal weight. The bank named the soda maker its "top mega-cap staples pick."
---
The SPDR Dow Jones Industrial Average ETF (DIA) was trading at $256.10 per share on Tuesday morning, up $2.63 (+1.04%). Year-to-date, DIA has gained 4.39%, versus a 6.78% rise in the benchmark S&P 500 index during the same period.
DIA currently has an ETF Daily News SMART Grade of A (Strong Buy), and is ranked #4 of 83 ETFs in the Large Cap Value ETFs category.
---
This article is brought to you courtesy of CNBC.