The gold price shot higher today with a lot of strength not only in terms of price expansion but also in terms of volume, at least on the SPDR Gold ETF (NYSE:GLD).  Today the (NYSE:GLD) ETF tested and closed above two very important swing highs that market previous life time high prices for gold. 
June 18, 2010 and June 28, 2010 are the two swing highs I am talking about and they were on 19.4 and 19.5 million shares respectively.  Today we closed at 124.024 on the (NYSE:GLD) ETF and the total volume was 26.6 million shares.  So today looks like a valid northward break upwards in the gold price.  Today was the day that throughout ALL of August 2010 was missing.
Yesterday I wrote about the gold price being at a crucial juncture.  I wrote that the gold price was on the verge of a possible bearish weekly macd KISS but I also wrote that the week was very early.
Sure enough today the gold price zooms higher and now the weekly MACD shows a bullish cross.  This signal combined with today's volume strength is telling me that the gold market wants to trend higher now.  The bear case I wrote about yesterday is significantly diminished today.
There is still this issue of the rising wedge in the (NYSE:GLD) ETF however.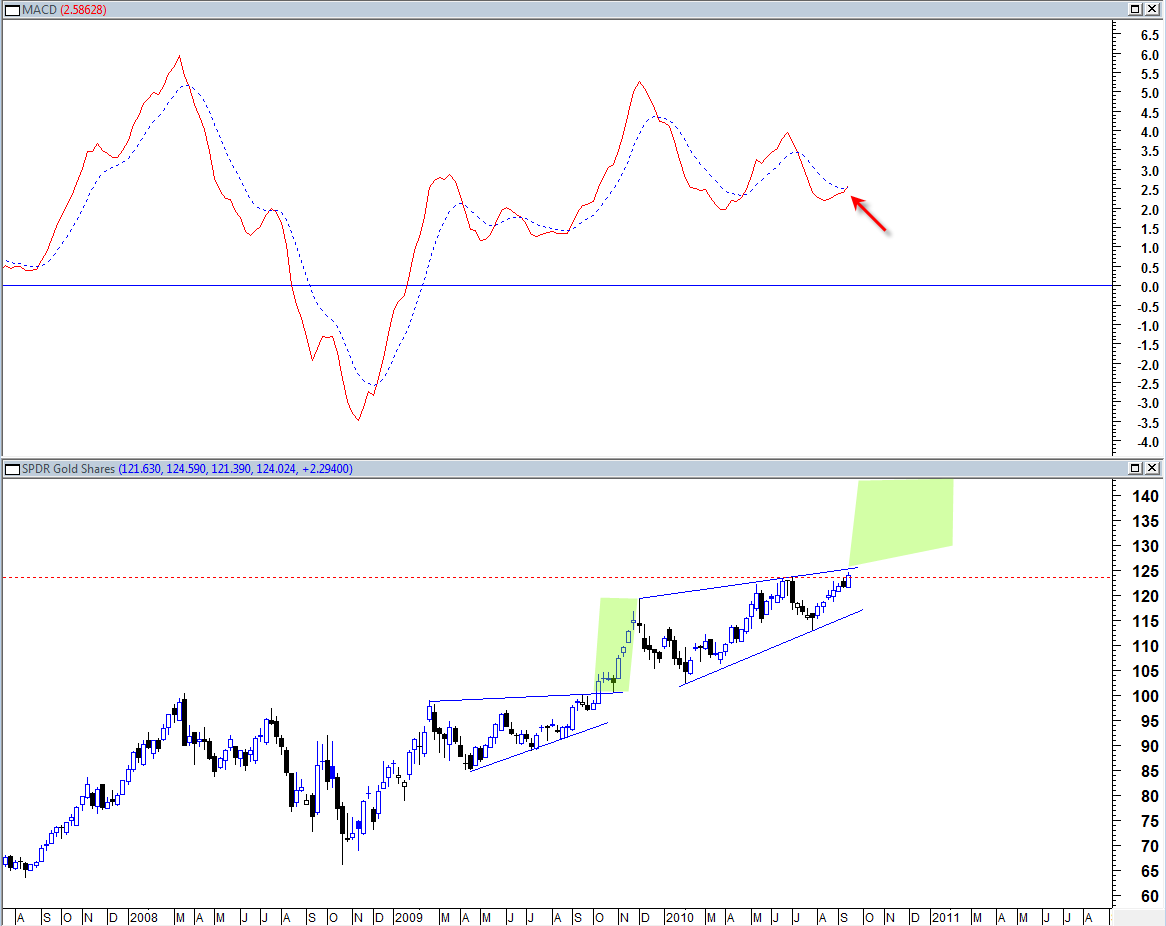 The (NYSE:GLD) ETF would ideally jump above this rising wedge into the green shaded area to eliminate the bearish tendencies of the rising wedge.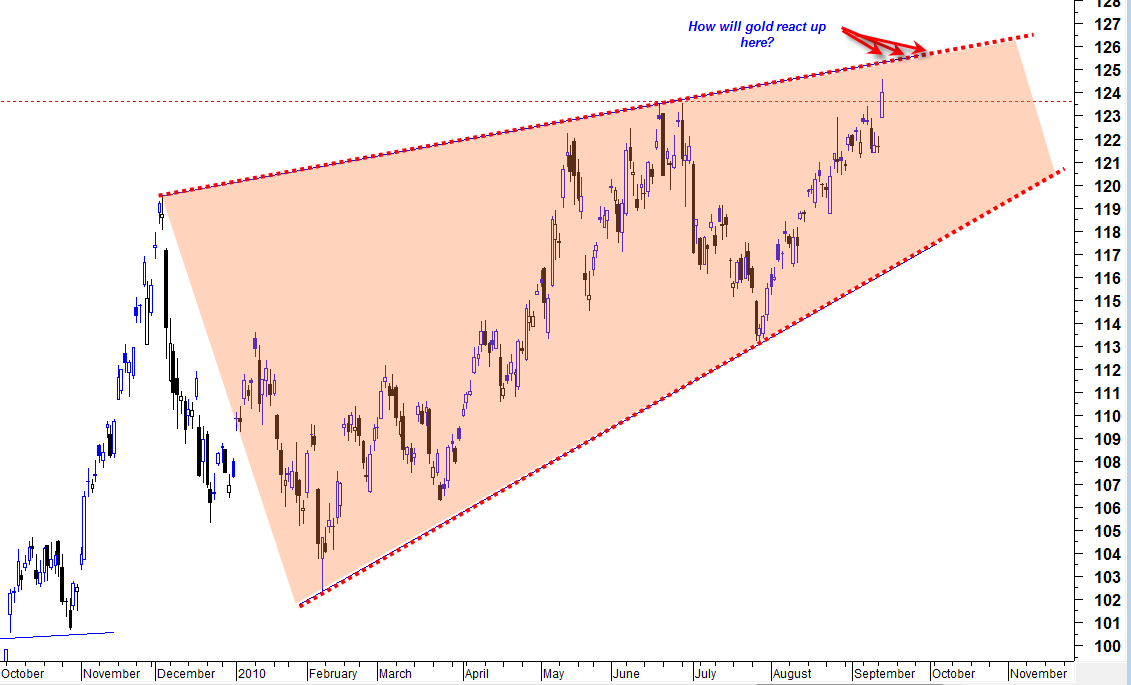 I am also seeing a weekly breakout in the weekly RSI, another bullish sign today.  It is truly amazing how just one day can tip the scales in the other direction.
If the trade is not short, then it must be long here.  However I think it would be good to see the follow through the rest of this week for better confirmation.
From mid September to end of September the bullish seasonals are extremely strong.  It looks like the seasonals are winning out.
It is worth mentioning once again the (NYSE:UUP) ETF (the one that tracks the US Dollar Index).  It got slammed today badly and appears to be confirming my initial observation that it is forming a large head and shoulders topping formation.
If my initial observation about the (NYSE:UUP) ETF continues to hold true then it would mean the US Dollar index is headed for a NASTY plunge.  This would be consistent with a gold price SURGE higher and also a paper stock market rally higher.
However it is still my take that gold is a Porsche and the stock market is a Dodge.  What I mean to say is that the gold price is the lead sled dog and should respond faster and more robustly to a collapsing dollar index, and that the US Stock market would still trade higher, but with less robustness and magnitude.
The PPI and CPI is coming out September 16 and 17, 2010 and it will be interesting to see if there is any up tick in inflation data.
Written By Tom From Best Online Trades
BestOnlineTrades covers many different aspects of trading, from commodities to stocks, from indices to ETF's.