The Market Vectors Gold Miners ETF (NYSE:GDX) monthly long term candlestick chart looks very constructive right now.  The (NYSE:GDX) has pretty much been left for dead for almost a year now.  The argument has been that because the mining stock index has not broken out to new all time highs, that we should assume it is not confirming the upside move in the gold price and that gold should break down going forward.
I prefer to judge the chart of the Market Vectors Gold Miners ETF (NYSE:GDX) on a stand alone basis.  We can clearly see that the (NYSE:GDX) has formed a massive almost 3 year long head and shoulders bottoming formation that has a long term upside measured target of about 85.
The symmetry of the long term (NYSE:GDX) candlestick chart shows that the left shoulder runs about 9 months long and the current right shoulder is also about 9 months long.  Head and shoulders patterns usually tend to symmetry in terms of time.  This could mean that the (NYSE:GDX) is headed for a massive upside breakout from this pattern above the 53 neckline in the months ahead.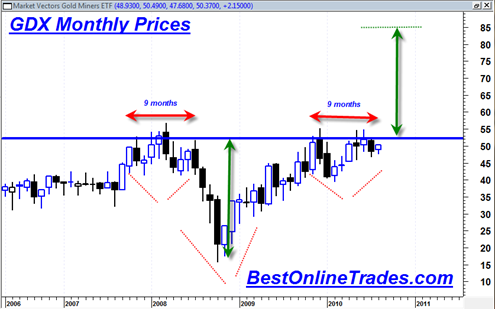 Many have waited for this gold mining ETF to break down but if we make an objective read on it over the course of the last 9 months it cannot be said that any break down has occurred at all.  On the contrary the (NYSE:GDX) has simply built more sideways cause for the next big move.  This ETF has basically put everyone to sleep at precisely the time they should start to focus on the (NYSE:GDX) closely.
I cannot say whether or not this mining ETF is going to get a massive breakout in September.  But the bullish seasonal time frame for gold and mining shares during September give extra weight to a breakout scenario soon.
For a breakout to be valid we need to see a massive monthly candlestick breakout bar on massive volume.  Because the chart here is so long term, the monthly price breakout will of course appear to be happening in slow motion on the daily and weekly charts.
If the Market Vectors Gold Miners ETF gets a monthly price breakout going it could potentially start a feeding frenzy in the junior and big cap gold mining sector and finally start to kick start the mining shares again.
If there is one simple truth about the recession of 2008, it is that supply has been further constrained. 
I still have seen no sign of a mass public love affair with gold mining stocks. Where is the hysteria? It doesn't exist.
I think the (NYSE:GDX) is going to play catch up to the gold price soon and break out topside and alight a fire under many junior and micro cap mining stocks.  A breakout above the neckline in this index could start to cause very heavy upside speculation across the board.
The junior mining ETF is the Market Vectors Junior Gold Miners ETF (NYSE:GDXJ).
Written By Tom From Best Online Trades
BestOnlineTrades covers many different aspects of trading, from commodities to stocks, from indices to ETF's.
Want More Great Investing Ideas?