Thomas Carreno:  The market is not showing any bearish cards today obviously and it looks like the bearish theory I proposed yesterday is incorrect.  We would need to see a full reversal today and then maybe even a slight negative closing.  This appears extremely unlikely to happen.  In the event that it does happen, then I will have to do a follow on post to this one and talk about bearish potential again.
So it looks like the inverse H and S pattern that we have seen over the last several months is starting to evolve correctly.  The market seems to be saying that the debt ceiling issue is a non event.  The inverse H & S pattern has a measurement implication that would put the S&P 500 at new 52 week highs.  Whether this can occur in August 2011 or not is unknown.  Perhaps it could.
The problem with bearish scenarios is that if one has to try to force them into reality they are usually not correct.  My posting yesterday on a bearish potential scenario was forced in the sense that the inverse H&S was still potentially in play.
So BOT Neutral for a while.  And probably BOT long above 1370.58 assuming the H&S bottom continues to play out according to spec.
If we break above 1346 then that level would transfer into support and set the market up for a break  to new 52 week highs eventually.
My problem is still with the long term monthly charts on the Financial Select Sector SPDR ETF (NYSE:XLF), Semiconductor HOLDRs ETF (NYSE:SMH) and the S&P 500 (NYSE:SPY) as well.  They still have bearish potential based on the large bearish divergence between the 5/2010 top and the 5/2011 tops.  The problem (or I should say 'my problem') has been that we have not seen prices really confirm the bearish monthly indicator setup.  Instead what we have seen is prices simply move sideways and continue to work off an overbought condition.
The March 2011, June 2011 and July 2011 monthly candlestick lows are each successively higher lows and this does seem to hint that the market is simply working off the overbought condition and transferring to a bullish evolution.
I do have to say that the most confusing aspect of technical analysis occurs when one has to make altering judgments on projected direction based on an indicator versus the price action itself.
I have given a lot of credit to the monthly histogram chart bearish divergence.  In addition there is also a fast version of the monthly MACD that is RIGHT NOW into a bearish monthly crossover mode.
The problem is that occasionally indicators are often lagging and during very strong persistent trending markets they tend to give false bearish signals (during a strong uptrend) and false bullish signals (during a strong down trend).
The reality is that price itself is the best leading indicator and deserves the highest reliability rating as far as forecasting ability goes.
So it could very well be that the price action over the last 4 or 5 months on the monthly time frame is simply the market working off overbought levels creating higher monthly lows and now wants to continue in an upward strong trend direction.  This is exactly the type of scenario that can lead to false monthly bearish signals and is what has caused me to give too much weight to the bearish side.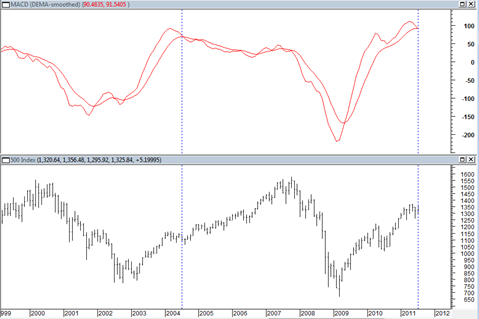 The chart above shows the fast monthly MACD and you can see that in 2004 and 2011 there have been bearish crossovers.  But in the case of 2004 the market simply corrected sideways and then eventually trended much higher.  Ironically the actually bearish crossover led to the END of the bearish price action in 2004.
We may be at a similar juncture right now.  Price is not giving up and is simply moving sideways.
I think this market wants to evolve similarly to the way it did after 2004.  Crazy as it may sound, it could mean we have years of further upside price action.
Written By Thomas Carreno From Best Online Trades 
I started 
Best Online Trades
because I really enjoy trading and I also enjoy writing about trading.  Writing about trading or trading strategies helps transfer thoughts that would otherwise stay in 'theory' and helps move them to more concrete form for me. And hopefully along the way you will pick up something useful as well. 
BestOnlineTrades
covers many different aspects of trading, from commodities to stocks, from indices to ETF's.
Want More Great Investing Ideas?