Kyle Anderson: West Texas Intermediate (WTI) crude oil dropped to $63.38 yesterday (Monday).
At that level, the price of oil is now down more than 42% since September of 2013.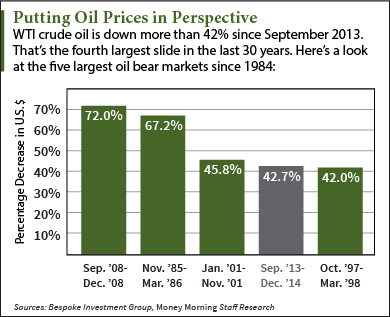 As this crude oil price chart shows, that's the fourth-largest bear market for oil in the last 30 years.
And with OPEC's recent decision to maintain its high level of production, crude oil prices will likely continue lower from here.
While the recent drop is stark, it still pales in comparison to the oil bear market of 2008.
That year, the price of oil fell 72% between September and December.
The 2008 drop was due to a weakened U.S. dollar and weak economic growth globally.
Prices fell from $120 to below $34 during that span.
So while that bear market had a bigger impact on oil prices, our current bear market has lasted 12 months longer.
The second-largest drop came during a four-month span from November 1985 to March 1986.
The collapse was attributed to Saudi Arabia boosting production in an attempt to gain global market share. 
Want More Great Investing Ideas?