Przemyslaw Radomski: In our last essay on oil stocks from Dec. 2, we checked the oil-stocks-to-oil ratio to find out what impact it could have on future oil stocks'€™ moves. Back then, we emphasized the strong positive correlation between the ratio and the oil stock index in recent months. As we wrote in the summary:
(…) connecting the long-, medium- and the short-term pictures, we clearly see that the ratio reached a strong resistance zone created by the long-, medium- and short-term lines. Although we saw breakouts above them, they all were invalidated. This is a strong negative signal for oil stocks holders, which suggests that further declines are just around the corner.
Since that essay was published, we have seen a downward move which took the ratio below the lower line of the gap between the April 2009 low and May 2009 high, which is not supportive for further growth. What impact did this event have on the oil stock index? Let's jump straight into the world of charts and take a look at the XOI in different time horizons. Let'€™s start with a look at the monthly chart (charts courtesy by http://stockcharts.com).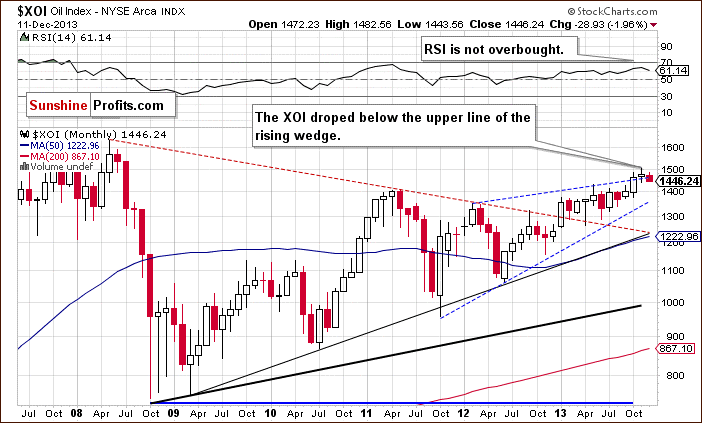 On the above chart, we see that the situation has deteriorated and the XOI dropped below the upper line of the rising wedge. In this way, the breakout above this line was invalidated, which is a bearish signal. Despite this fact, the long-term uptrend remains in place at the moment.
To see the current situation more clearly, let'€™s zoom in on our picture and move on to the weekly chart.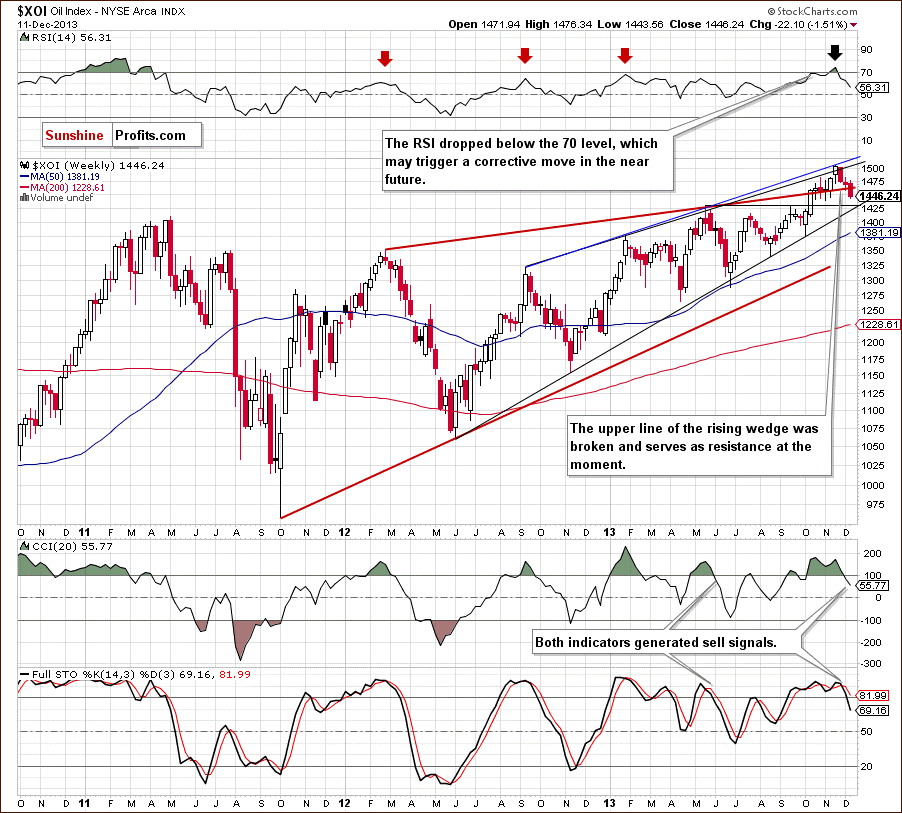 As you can see on the above chart, at the end of November the breakout above the upper line of the smaller rising wedge was invalidated, which was a bearish sign by itself. This negative event triggered further declines in the following weeks and took the XOI to its first medium-term support – the upper line of the rising wedge (marked with the red bold line) around 1,463.