Looking at the above chart, we see that the oil stock index extended its decline in the previous week and dropped below the support line. However, this deterioration was only temporary. The XOI rebounded and closed the week above the upper line of the rising wedge, which still serves as support.
Nevertheless, the position of the RSI and the sell signals generated by two other indicators, encouraged sellers to act and triggered further deterioration this week. As you see on the above chart, the upper line of the rising wedge was broken, therefore, the first target for the sellers will be around 1,439, where the bottom of the previous correction is. From this perspective, the next one target will be the May high at 1,430.
From the technical point of view, the medium-term uptrend remains in place at the moment, and the situation is still bullish.
Now, let'€™s turn to the daily chart.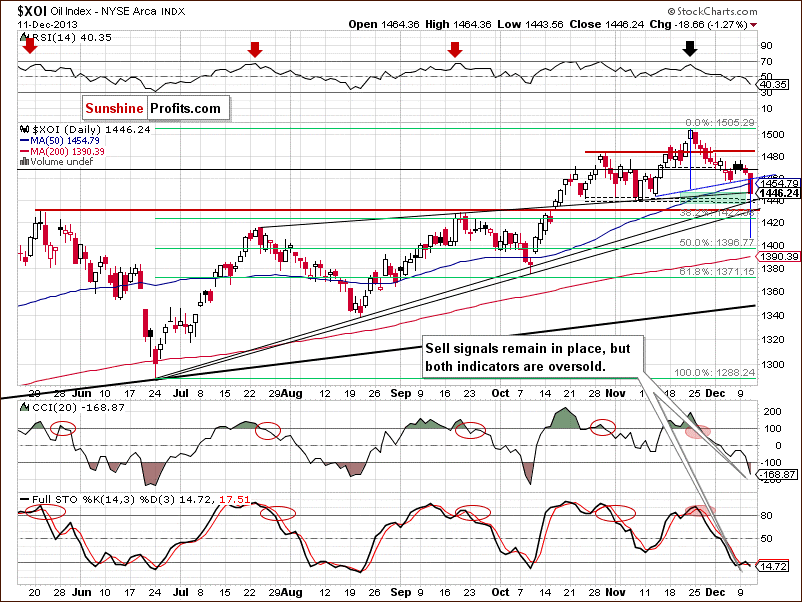 Looking at the above chart, we see that the situation has deteriorated significantly since our previous essay on oil stocks was published.
Quoting our Oil Trading Alert from Monday:
(…) If the XOI moves above 1,475, we may see further improvement and an attempt to move above 1,483 (the previous 2013 top). On the other hand, if oil stocks drop below 1,457, we will likely see further deterioration. In this case, the first downside target will be the 50-day moving average (currently at 1,453). If it's broken, we may see a downward move to a support zone created by the upper line of the rising wedge (marked with the thin black line) and the bottom of the correction that we saw at the beginning of November (around 1,440-1,446).
As you can see on the above chart, yesterday the oil stock index dropped below 1,457, which encouraged sellers to act. In the following hours, the XOI declined below its 50-day moving average and reached the upper line of the rising wedge. In this way, oil stocks moved to their support zone, which may encourage buyers to push the buy button. If it happens, we may see an upward corrective move to around 1,475.
However, when we take a closer look at the chart, we can notice a head and shoulders pattern. The yesterday drop pushed the XOI below the neck line (marked in blue), which may trigger further deterioration. According to theory, the price target for this formation will be around 1,410. Nevertheless, before the sellers realize their scenario they will have to push the oil stock index below this support zone.
Summing up, from the long- and medium- term perspectives, the outlook for oil stocks remains bullish and the uptrend is not threatened at the moment. However, taking into account the medium- and short-term sell signals, further deterioration should not surprise us.
This article is brought to you courtesy of Przemyslaw Radomski from Sunshine Profits.