Nadia Simmons: In our previous essay, we examined one of the most interesting relationships in the crude oil market – the one between oil stocks and other stocks, to find out if there's something else on the horizon that could drive oil stocks higher or lower in the near future. Back then, we wrote that there were periods of time when the S&P 500 Index was stronger than the oil stock index and that such divergences had triggered declines in both indices before.
Since that essay was published, we've seen similar price action. In the previous week, the S&P500 index broke above the previous high and hit a fresh all-time high. Meanwhile, although the XOI moved higher, the move ended slightly below the 2013 high.
Nevertheless, on Monday we saw further improvement and both indices hit their new 2013 highs. However, after that they declined. Will we see further deterioration? Before we try to answer this question, we'll examine the NYSE Arca Oil Index (XOI) to find out what the current outlook for oil stocks is.
Let's start with a look at the monthly chart of the oil stock index (charts courtesy by http://stockcharts.com).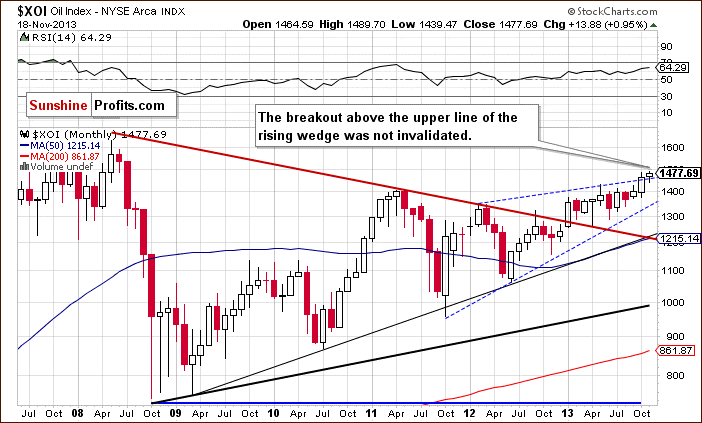 On the above chart, we see that the situation has improved recently and the XOI still remains above the upper line of the rising wedge.
Quoting our essay on oil stocks and crude oil from Oct. 30, 2013:
The breakout, however, is not yet confirmed. (…) in this area there's a very important Fibonacci retracement level – 78.6% (close to 1,467) based on the entire May-October 2008 decline, which may slow the rally. However, if the buyers don't give up and manage to push the oil stock index above this resistance, we will likely see further growth.
Looking at the above chart, we see that the breakout above the 78.6% retracement level encouraged buyers to act and resulted in a new 2013 high at 1,489. From this point of view, the situation is very bullish.
To see the current situation more clearly, let's zoom in on our picture and move on to the weekly chart.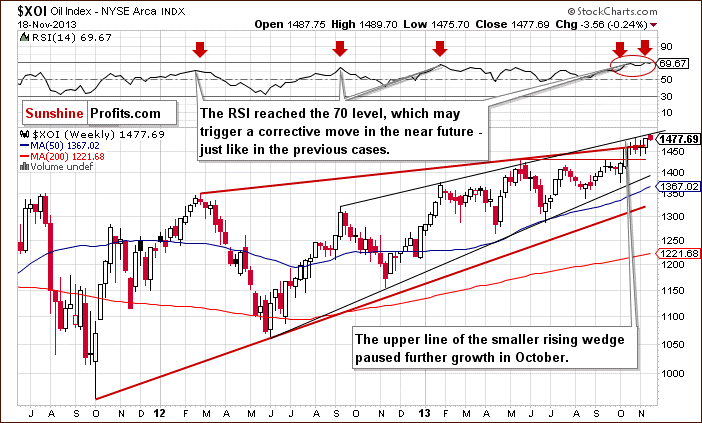 Looking at the above chart, we see that the oil stock index bounced off the bottom of the recent corrective move in the previous week, which resulted in a sharp pullback. With this upward move, the XOI came back to slightly below the October high. On Monday, we saw further improvement and the oil stock index climbed to a fresh 2013 high at 1,489.
In spite of this growth, the breakout above the previous high is not confirmed.
Want More Great Investing Ideas?