Nadia Simmons: Tensions in the Middle East have always had an impact on everyday life around the world through their effect on the price of oil. During the last month we saw this impact very clearly. At the beginning of September, the price of light crude dropped as fears of U.S. military action against Syria faded. In the following days, crude oil declined as Libya's production recovered to nearly 40% of pre-war capacity. Higher crude oil output in Iraq was an additional bearish factor, which pushed the price lower. In the previous week, investors watched closely all the US-Iran news. On Friday, the price of oil fell as tensions eased between the United States and Iran after the Obama-Rouhani talks.
What impact did these events have on the price of light crude?
Looking at the chart of crude oil from today's point of view, we can conclude that September was a hard month for oil bulls. After the June-August rally, which resulted in a new 17-month high, the situation in the oil market deteriorated. The price of light crude dropped from the September high at $110.70 to a new monthly low at $102.20 per barrel. With this move, crude oil has lost nearly 5% so far this month and declined for a third straight week.
And what did happen with the oil stocks at the same time? How does the relationship between light crude and the oil stocks look like? Could lower prices of crude oil have any implications for the oil index? Before we try to answer these questions, let's take a look at the NYSE Arca Oil Index (XOI) charts to find out what the current situation in the oil stock market is (charts courtesy of http://stockcharts.com).
We begin with the long-term chart and almost immediately see that the situation has improved.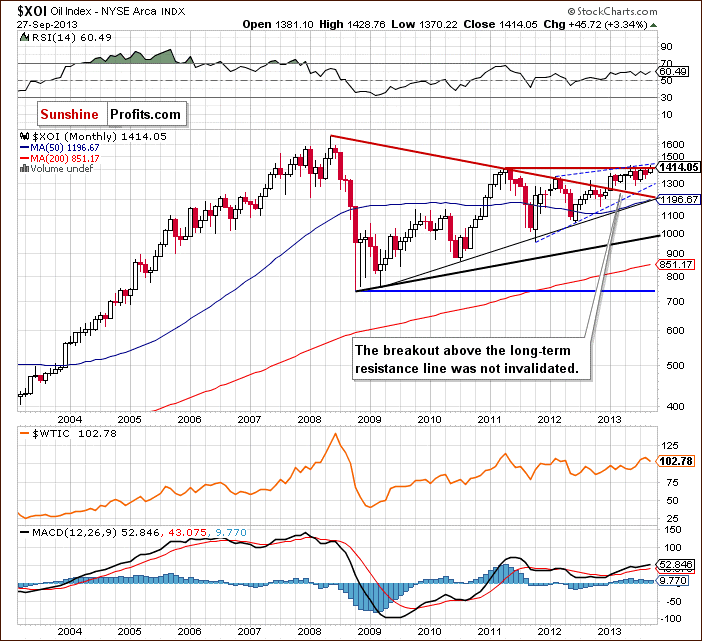 The XOI not only broke above the July top, but it also broke above the May 2011 high. If the buyers hold the oil stock index above 1,400 today, this will be the highest monthly close since June 2008.
Additionally, the XOI is still above the previously-broken long-term declining resistance line based on the 2008 and 2011 highs and the breakout hasn't been invalidated. The oil stock index also remains in the range of the rising trend channel.
Taking these observations into account, the situation is still bullish.
Want More Great Investing Ideas?