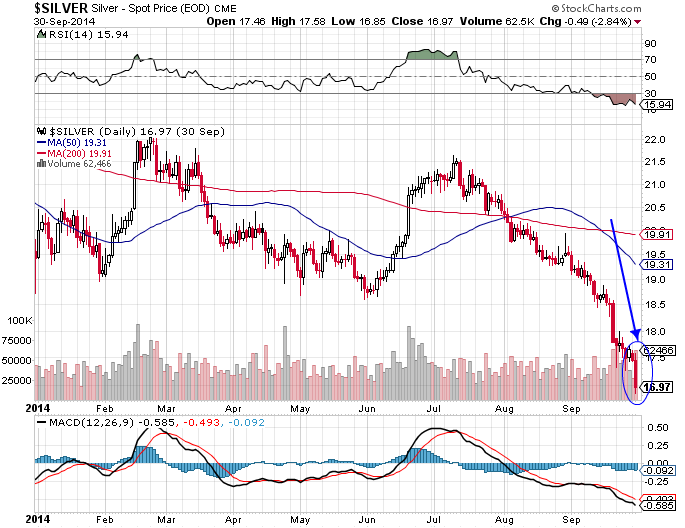 Yesterday (Tuesday), the bid price of spot silver dove $0.49 to $16.97 an ounce by market close, the first time it's been below $17 since early 2010. This rounds out a September where the white metal got pummeled, falling 12.8% for its worst month of 2014. On Sept. 19, it had its worst day on the year, falling $0.79. It's now down on the year 13.3%.
Silver futures – contracts promising the future delivery of physical silver – dropped 12.5% on the month, falling to $17.06 as of yesterday's close. That's a decline of $2.43.
Exchange-traded funds backed by silver were also clobbered in September. Silver ETFs, such as the iShares Silver Trust (NYSEARCA:SLV) closed yesterday at $16.35, a 12.6% descent on the month, and the ETFS Physical Silver Shares (NYSEARCA:SIVR) fell to $16.78, also down 12.6%.
This slump, however, can be explained by a number of easily identifiable factors that are not sustainable in the long-term, and once they clear up, silver will be able to reverse this fall.
Just look at the strength of the dollar. It's at four-year highs just as silver prices are at their four-year lows.
And the last time the dollar hit its peak in June 2010, when silver was trading at $18.468, the white metal marched forward to $30.91, or 67.4%, by the end of December.
And if the dollar's strength is indeed at its peak, and there are a number of indicators to suggest that, then we can expect similar movements for silver going toward the end of 2014.
And futures activity suggests that silver's bears are prepping for a squeeze.
Here's why the dollar's unwarranted strength, and the high volume of silver short-side speculators, is coming to an end.
The Perfect Storm of Factors to Push Silver Prices Up
The U.S. Dollar Index is flirting with four-year highs, and because silver is generally looked on as a hedge against a weakening dollar, it's no surprise that the price of silver is also flirting with four-year lows.
But the dollar is not sustainable at current levels, and only really looks strong because it is being measured against currencies like the euro, which have been falling to new lows as well.
The euro will not continue to fall as it has, however. European Central Bank President Mario Draghi has been indicating that he will pursue inflationary monetary policy to reverse a troubling disinflationary trend in the Eurozone, but hasn't yet announced a quantitative easing policy.
This shows that traders have been adopting a "buy the rumor, sell the news" attitude – or in this case a "sell the rumor" – as speculators are shorting the euro in high numbers on the expectation that mere talks of quantitative easing will push down the euro's value.
But without an explicit move toward QE by the bank, some traders may begin to buy the euro with its cheap price tag, forcing prices up and squeezing out some of the shorts.
Similarly, silver speculators are shorting the white metal near close to record highs.
As of last Tuesday, a U.S. Commodity Futures Trading Commission revealed that silver speculators hold 46,281 short contracts, representing 231.4 million ounces of physical silver. This is not quite at the record it reached in July of close to 245 million ounces, but it has already seen a pullback from the week before, indicating that at least some of silver's bears are rolling back their short positions in the face of new low prices for silver.
Despite a devastating September, the factors in place suggest these prices are deceptively low and ready for a reversal.
Written By Jim Bach From Money Morning
We're in the midst of the greatest investing boom in almost 60 years. And rest assured – this boom is not about to end anytime soon. You see, the flattening of the world continues to spawn new markets worth trillions of dollars; new customers that measure in the billions; an insatiable global demand for basic resources that's growing exponentially; and a technological revolution even in the most distant markets on the planet.And Money Morning is here to help investors profit handsomely on this seismic shift in the global economy. In fact, we believe this is where the only real fortunes will be made in the months and years to come.