Scott Pluschau:  PowerShares QQQ ETF (NASDAQ:QQQ) had a breakdown from a mature balance area in the daily time frame on increasing volume. Why was the selloff so sharp? Not because of the credit downgrade, but because of the tremendous amount of trade facilitation that took place in this consolidation area in the year 2011 that I have drawn with blue trendlines on the daily chart.
Every trader and investors who bought QQQ this year were in the red on that breakdown. There was a prior bounce in June off of this support area and that depleted some demand in that price range.  Often there is demand when support is tested, but if the prior demand is gone, that now puts the average trader or investor is in the red. And psychologically this fear of losing money can turn into panic, and unfortunately the "Sharks" know it. So what do the sharks do, they put on short positions to increase the supply and make it hurt even more to those that have weak hands and eventually force them to scream "uncle", and that increases supply simply hammering the Nasdaq 100. You can see the big volume clearly on this selloff. This is my understanding of how it works in an auction.  What happened next is the sharks then cover their shorts for a nice profit, and that initial profit taking is actually what now initiates the rally along with some investors or traders looking for a bargain, and we then get a short squeeze on the traders who were late to the game and just began putting on short trades. These weak handed short traders are soon in the red on their trade and as the market rallies, what do you think the "Sharks" do? They now go long, and squeeze the heck out of the weak handed short traders back to the breakdown area. As the short traders buy to cut their losses down, this fuels the sharp rally.
A reversal from here after this pullback, a breakdown of this prior support area is about as low risk a trade as you will ever get for the classic short trade setup. My stop will be placed above this recent high tick of $54.35 that happened yesterday. ONLY after the next breakdown of prior support and not any sooner. Why is my stop being placed here? Not because of any monetary reason, but because this is where the reasons for my trade will be invalidated. There is nothing wrong with putting yourself in a position where there are good enough probabilities of being right on the trade with the favorable reward to risk. There will have to be some serious demand to put the QQQ back up again on a failure to hold support in my opinion. And if that is the case, I'm out with a small loss with the correct position sizing and money management techniques. Due to the low volume rally combined with the second chance to "get out now while you still have a chance" and we "may" see a new low relatively quickly. My initial target is the recent low of $49.93. Below $49.93 and it could be bombs away to the prior balance area I highlighted on the weekly chart below. The initial reward to risk based on the initial target of $49.93 is approximately $3.5 to $1.00. But I won't be looking to take a profit or cut the trade down unless $50 holds. If not, I'm looking to add to my trade and target the next level of support.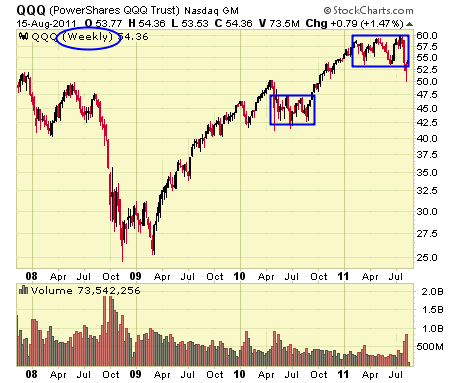 I put on a short trade in QQQ on May 31, 2011 at $57.98 due to the negative divergence signals in the Nasdaq at that time, and I covered on August 9, 2011, at $51.31. The write up with reasons for that trade on May 31st can be found here:
In full disclosure I have no position in QQQ at this time, but I may be getting involved shortly.
Comments are welcome at [email protected]
Written By Scott Pluschau From ETF Digest  
Scott was a financial advisor with Citi. His technical analysis report was recently featured by Dr. Marc Faber on the Nasdaq Composite Index in his June 1, 2011 Gloom Boom & Doom report. Scott earned his degree in Accounting and Taxation from Pace University. He lives in Long Island with his wife Ilona, daughter Olivia and new baby Henry.
ETF Digest writes a subscription newsletter focused on technical analysis of exchange-traded funds. ETF Digest was founded in 2001 and was among the very first to see the need for a publication that provided individual investors with information and advice on ETF investing.  Even if you're not a fan of chart analysis, ETF Digest provides insight and commentary into which global markets are "working" and why.
Want More Great Investing Ideas?