The S&P 500 is sitting right under the medium term resistance line that has marked the downtrend since end of April 2010. Today was pretty much a non event day in terms of price movement and the S&P 500 printed another doji candlestick with a modest range.  It was also an inside day in that we did not exceed the high or the low of yesterdays price action.  (Investors looking to play the S&P 500 index can do so through the S&P 500 ETF (NYSE:SPY))
Again, we are sitting right under the medium term resistance line that has basically defined the bearish move since April 2010.  The fact that we did not show a strong reversal type candlestick today is encouraging for more upside action.  It is also good that we did not exceed yesterday's high.  It allows the market to build a small amount of energy for a possible 'jump of the creek' , the creek in this case being the blue dotted down trendline.
Based on the shorter term momentum, and the market still feeding off of this positive divergence I am thinking right now that the market will be able to jump over this blue dotted resistance line this week and then make an attempt at one of the three other topside resistance lines that have defined the inverted triangle.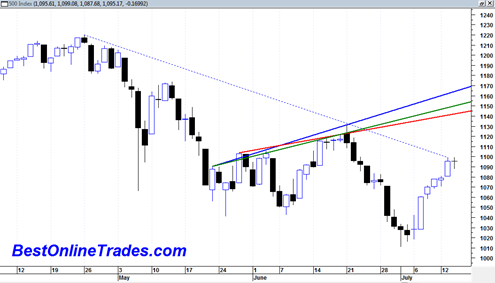 If I am wrong, then the market should tell us this tomorrow and reverse down immediately telling us that it still wants to respect this bearish downtrending force.
We are certainly at a very interesting juncture here.
I continue to see bullish tendencies on the weekly chart plotted against the MACD histogram.  All we need to do this week to confirm the weekly upward histogram buy signal is to get a weekly close above 1078.16 on the sp500.  So far so good but the week is not over yet.
Written By Tom From Best Online Trades
BestOnlineTrades covers many different aspects of trading, from commodities to stocks, from indices to ETF's.
The best way to play the S&P 500 is through ETFs and we have included some more details on the SPDR S&P 500 ETF (NYSE:SPY) as a  play on the market below:      
SPDR S&P 500 ETF (NYSE:SPY)  Visit Our SPY Category: HERE      
The SPDR® S&P 500® ETF is a fund that, before expenses, generally corresponds to the price and yield performance of the S&P 500 Index (Ticker: SPTR). Our approach is designed to provide portfolios with low portfolio turnover, accurate tracking, and lower costs.  
| | |
| --- | --- |
| TOP 10 HOLDINGS (19.26% OF TOTAL ASSETS) |   |
| Company | Symbol | % Assets |
| --- | --- | --- |
| Apple Inc. | (AAPL) | 1.90 |
| AT&T Inc. | (T) | 1.66 |
| Chevron Corporation Common Stoc | (CVX) | 1.55 |
| Exxon Mobil Corporation Common | (XOM) | 3.25 |
| General Electric Company Common | (GE) | 1.61 |
| International Business Machines | (IBM) | 1.72 |
| JP Morgan Chase & Co. Common St | (JPM) | 1.65 |
| Johnson & Johnson Common Stock | (JNJ) | 1.78 |
| Microsoft Corporation | (MSFT) | 2.36 |
| Procter & Gamble Company (The) | (PG) | 1.78 |
Want More Great Investing Ideas?