In the last year, the Nasdaq Biotechnology Index has soared 48.3%. The Dow and S&P 500 are up just 7.3% and 8.6% in that time.
But the biotech ETF that we've recommended to Money Morning readers has done even better. In the last 12 months, it has climbed 54.2%. That's more than seven times the returns of the Dow Jones.
Before we examine the biotech ETF pick, let's take a look at what's pushing biotech higher in 2015…
Why We Like This Biotech ETF for 2015
We've seen numerous "Buy" signals for biotech stocks in 2015.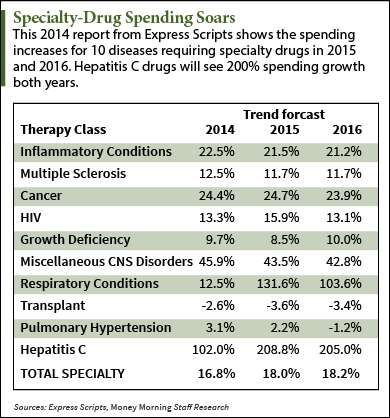 First was a report from the IMS Institute of Health that claimed global cancer spending topped $100 billion for the first time in 2014. That was 10% higher than it had been in 2013.
"The increased prevalence of most cancers, earlier treatment initiation, new medicines, and improved outcomes are all contributing to the greater demand for oncology therapeutics around the world," IMS's Senior Vice President Murray Aitken said in a statement in May.
That increased spending has pushed cancer-focused biotech companies higher in 2014 and 2015.
And it's not just cancer drugs that have seen increased spending…
According to Express Scripts, almost every specialty drug will see a hike in spending in both 2015 and 2016. Hepatitis C treatments will lead the way, with growth of 208% in 2015 and 205% in 2016.
Spending on inflammatory conditions is expected to grow more than 21% each year. Multiple sclerosis spending will jump by 11% each year. Respiratory conditions will see sales growth of 131% and 103%.
Finally, an M&A boom in the pharmaceutical sector has helped lift biotech stocks and biotech ETFs in 2015.
According to PricewaterhouseCoopers, the "life sciences" field had 35 M&A deals in Q1 2015. The life sciences industry is made up of pharmaceuticals, medical devices, biotech, diagnostics, and contract-research organizations.
Those deals totaled $166.3 billion. That's more money than was spent during all of 2014, which saw M&A activity total $150.1 billion. In Q1 2014, just $46.5 billion was spent.
Top pharma companies go on the hunt for smaller firms when their older patents are about to expire. Instead of developing their own drugs – which can take up to 10 years and $1 billion – they buy other companies with new drugs.
This can send the share prices of both the acquired and the acquiring companies soaring.
That's why we've been recommending a biotech ETF this year. It allows investors to profit from the entire industry, not just one company. Here's the pick…
The Top Biotech ETF to Buy Now
The biotech ETF we like is the First Trust NYSE Arca Biotech ETF Fund (NYSE: FBT).
FBT has 30 holdings that are all roughly equal in size, near 5%. The biggest holding, Seattle Genetics Inc. (Nasdaq: SGEN), comprises just 4.2% of FDT's assets. SGEN stock is up almost 46% in 2015 alone.
"The stocks in the First Trust fund have a median market cap of about $8.4 billion," Money Morning's Defense and Tech Specialist Michael A. Robinson said when he first recommended it. "That's large enough to offer stability but small enough to deliver plenty of upside."
FBT offers a way to play some of the most exciting biotech stocks on the market, including the following:
Regeneron Pharmaceuticals Inc.'s (Nasdaq: REGN) main product combats blindness in senior citizens. The company has a $52 billion market cap, 30% operating margins, and return on equity (ROE) of 13.7%. FBT has 3.8% of its holdings in REGN.
Celgene Corp. (Nasdaq: CELG) has several cancer drugs on the market right now and a market cap of $89 billion. CELG has operating margins of 40% and an ROE of 43.4%, and it makes up 3.2% of FBT's holdings.
Gilead Sciences Inc. (Nasdaq: GILD) accounts for 3.8% of FDT's assets. GILD is best known for its hepatitis C treatments. It has a market cap of $174 billion, 65.4% operating margins, and ROE of 90.4%.
More than 94% of FBT's holdings are U.S. companies. Of those, nearly 70% are medium, large, or giant-cap firms. Risk is also limited – with micro-caps comprising just 3%.
FBT has brought shareholders consistent gains throughout the year. Over the last month, it's up 3.9%. Year to date, it's gained 20.5%. Over the last 12 months, investors have seen a 54.3% profit. FBT currently trades near $123 per share.
The Bottom Line: Biotech stocks have outpaced the market this year due to solid sales growth and a flurry of M&A activity. One of the best ways to play that momentum is with a biotech ETF. Our favorite play is FBT. It's up 20% year to date and 54% in the last year.
Brought To You Courtesy of Kyle Anderson
We're in the midst of the greatest investing boom in almost 60 years. And rest assured – this boom is not about to end anytime soon. You see, the flattening of the world continues to spawn new markets worth trillions of dollars;new customers that measure in the billions; an insatiable global demand for basic resources that's growing exponentially; and a technological revolution even in the most distant markets on the planet. And Money Morning is here to help investors profit handsomely on this seismic shift in the global economy. In fact, we believe this is where the only real fortunes will be made in the months and years to come.