The market is looking pretty quiet this morning, with the big news coming out tomorrow and Friday. However, on tap for today, Obama will speak more about his plans to bolster jobs, the Fed Beige Book will be released, and global markets should help to allay fears. And these things are looking positive so far at the start of the day.
Yesterday, we got involved into two new positions. One was a Weekly Play in National Semiconductor (NYSE:NSM). We got involved at 12.90, and are down slightly after yesterday. However, we have until tomorrow afternoon to make 3-5%.
Our Overnight Trade in Navistar (NAV) looks like it won't be a home run. Despite a significant EPS beat and revenue increase YOY, the company cut its revenue guidance. The stock is down just slightly in pre-market. I am going to hold it to start the day, and see where it goes in the first five minutes.
We also have an open Short Sale position in KB Homes (NYSE:KBH).
(FYI, the comic above is one of the worst I've ever seen.)
Let's get into today's play…
Buy Pick of the Day: Direxion Daily Bear Financial ETF (NYSE:FAZ)
Analysis: I do not think the green that the futures are showing will last today. We had a great few days of run up followed by yesterday's disaster. Wednesday usually is the toss up day of the week, and I think we are headed lower but not too far down. The market is moving up on some allayed European fears and news on Obama's further economic propositions to save the country, but I don't buy it.
I would think most investors would not get too excited about the Obama Deal Part II.
Further, we got a slew of awful earnings this morning from Talbots (NYSE:TLB), Smithfield Foods (NYSE:SFD), and Pepboys (NYSE:PBY). There is no big economic data to help bring us up, and there is not anything else on the table.
I think we start in the green but can't hold it. That is why I think a Bear ETF is a great buy for today. It used to be that all I did was play ETFs based on where I thought the market was going. I've been sidetracked by earnings for the past month or so, and I think it's time to try our hand at movement again.
The market is continuing to lose futures on the Dow and S&P, as the minutes tick towards the open. CNBC commented that futures were up on a solid Portugal bond report. Are they serious? There is no way our markets are going to sustain a green day on a bond sale in Portugal.
Therefore, I think we can expect stocks to lose from the open and inverse ETFs to gain. One of the best and most volatile is (NYSE:FAZ). And since financials put us in this hole, when we talk about recovery today, the banks are where the targets will be set.
(NYSE:FAZ) is down in pre-market, and it is very undervalued. It represents a great volatile play that can move upwards in a heart beat. Obama's remarks won't come until the afternoon, and so, we may see an afternoon push back upwards. By that time, however, I think we will have made out move.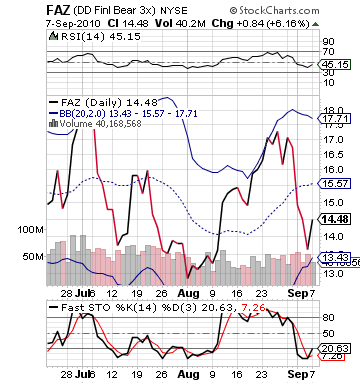 The stock is nearly 9% off of its 50 day moving average, near its lower bollinger band, oversold on stochastics, and it has a lot of room to its upside. The downside is limited for (NYSE:FAZ). This signals that the market does not have a lot of upward room to go right now, and it may be topping in the short term. A few days back in the red, and it will be time to switch the story again.
My final stress test is that most of the articles on Seeking Alpha are bullish. That means it is a great time to be bearish, and the fundamentals support it.
Entry: We are looking to get involved at 14.15 – 14.30
Exit: We are looking to exit for a 2-3% gain
Stop Loss: 3% on bottom
Written By David Ristau (The Oxen Group) From Phil's Stock World 
Disclosure: No positions
ABOUT: David Ristau is an avid, experienced fundamental and technical day trader, specializing in intraday trades that are based on value and fundamental indicators along with technical and entry/exit analysis. David is a financial writer for Phil's Stock World (Phil Davis) under the name of The Oxen Group.  The Oxen Group was a former site that David ran before merging forces with Phil. The site was based around daily financial reports that David wrote about market options he saw on a daily basis. David's daily financial articles pick various stocks that show single day opportunities to make 2-4%. David has found that a consistent 2-3% per day in fundamental day trades can be just as effective as …More long term options. In fact, since he started writing his reports, he has seen the value of his virtual trades increase over 100%. David graduated from Lake Forest College in 2010 with a degree in Philosophy, Economics, and International Relations. He is from Cincinnati, OH and loves the Packers and Cubs!
Want More Great Investing Ideas?