Chris Ciovacco: The economic bulls got a blowout number from Friday's nonfarm payrolls report. From Reuters:
U.S. job growth increased at its fastest pace in more than two years in April, suggesting a sharp rebound in economic activity early in the second quarter. Nonfarm payrolls surged 288,000 last month, the Labor Department said on Friday. That was the largest gain since January 2012 and beat Wall Street's expectations for an increase of 210,000. March and February data were revised to show 36,000 more jobs than previously reported.
Friday's better than expected results seem to align well with the following investment narrative:
Economic improvement.
A more favorable outlook for corporate earnings.
An expectation of rising interest rates.
Since bond prices drop as interest rates rise, we would expect that equities would be handily outperforming their fixed-income brothers in an environment defined by points 1 through 3 above…right? Well, that is not what we have right now. The chart below shows bonds (TLT) have been outperforming stocks (SPY) for some time now.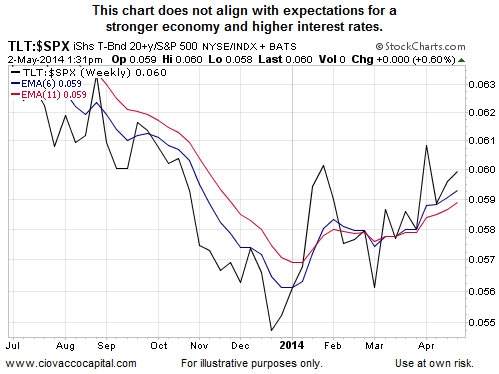 Blaming Russia Is One Option
The markets are still dealing with a wild card that answers to "Putin". Even as the United States and Germany presented a united front regarding Russian sanctions, the situation in Ukraine continued to take on an unsettling tone. From Bloomberg:
Ukraine sent armored vehicles and artillery to retake Slovyansk, a stronghold for pro-separatist forces, defying President Vladimir Putin's demand to pull back troops with Russia's army massed across the border.
Gold's pop during Friday's session aligned with the TLT is doing well as conflict fears increase theory. That sounds good and has merit, but it does not explain why Treasuries have been outperforming stocks for almost four months now.