Best Online Trades: If the PowerShares DB US Dollar Index Bullish ETF (NYSE:UUP) in the next week or two is able to break back above the head and shoulders neckline resistance level, it could spell trouble for the stock market and bode well for inverse ETFS and leveraged inverse ETFS such as the Direxion Daily Small Cap Bear 3X ETF (NYSE:TZA).
The break down of the UUP ETF through its neckline in very early September 2010 correlated nicely with one of the biggest stock market rallies in decades.
But now, it appears the exact opposite is about to happen and one has to wonder what effect it will have on the stock market.
If the inverse correlation still exists then we should see an important stock market turning point within the next 1 to 2 weeks.  If one looks very carefully at the UUP ETF price chart superimposed over the sp500 it can be seen that sometimes there exists a delay factor between any new sharp UUP rally and the eventual stock market reaction to that UUP rally.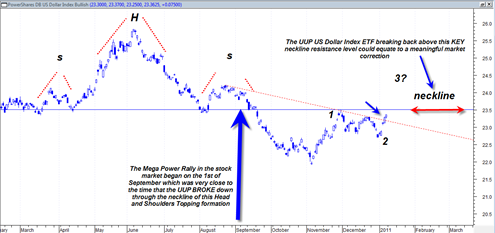 The delay factor can be between 4 to 8 days or longer depending on what time frame we are comparing.  In the case of the April 2010 top in the stock market there was about an 8 day delay before the stock market began to crumble.  The UUP had about an 8 day rally before the stock market started to fall rapidly.
In early November 2010 there was about a 4 to 5 day delay before a more involved stock market reaction.
ETF Daily News notes some other related bear ETFs:  ProShares UltraShort Dow30 (NYSE:DXD), ProShares UltraShort S&P500 (NYSE:SDS), Direxion Daily Financial Bear 3X Shares (NYSE:FAZ),  ProShares UltraShort Financials (NYSE:SKF), Direxion Daily Real Estate Bear 3X Shrs (NYSE:DRV).
Currently the UUP is in rally mode day 5 from the key 12/31/2010 spike low day.
I believe the UUP crossing through and above the 23.50 level will be very important to watch for during the next two weeks.  It could cause an important turn in the sp500 which appears to be the case anyway after a thorough study of important indicators.
Written By Thomas Carreno From Best Online Trades 
I started 
Best Online Trades
because I really enjoy trading and I also enjoy writing about trading.  Writing about trading or trading strategies helps transfer thoughts that would otherwise stay in 'theory' and helps move them to more concrete form for me. And hopefully along the way you will pick up something useful as well. 
BestOnlineTrades
covers many different aspects of trading, from commodities to stocks, from indices to ETF's.
Want More Great Investing Ideas?