Today may be the day that the bear market officially dies (in terms of technical analysis) as far as the SPDR S&P 500 ETF (NYSE:SPY) is concerned.  Pre market right now the (NYSE:SPY) is already up over 1% which puts it above the top boundary line of the large symmetrical triangle I wrote about yesterday.
If the market today is able to hold the breakout and show a large price bar closing near the highs to prove a sign of strength then we may be able to stamp the breakout as official.  The total end of day volume on today's advance is going to be important to as we are near end of week right now and it would seem there should not be any more excuses for another low volume day.
If the market can deliver today it would be the most significant bullish event the market has produced since the April 2010 top in my opinion.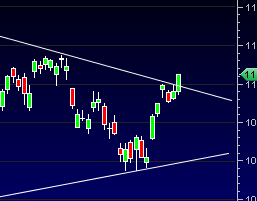 There always exists the possibility of an end of day intra day reversal that closes the market back near the open.  That seems like a remote possibility now, but it is one that the bears definitely need to keep the bear dream alive.
Getting clear resolution out of this trading range will be a welcome relief and set the stage for a possible major new trend which will be interesting to analyze.
Even if we do get a confirmed breakout today, the (NYSE:SPY) ETF still has another very major hurdle ahead of it.  That is to break above the 113.22 shelf with conviction and then transfer that level into support.  I consider that the next major milestone to keep bullish tendencies alive.
Written By Tom From Best Online Trades
BestOnlineTrades covers many different aspects of trading, from commodities to stocks, from indices to ETF's.