From Thomas Franck: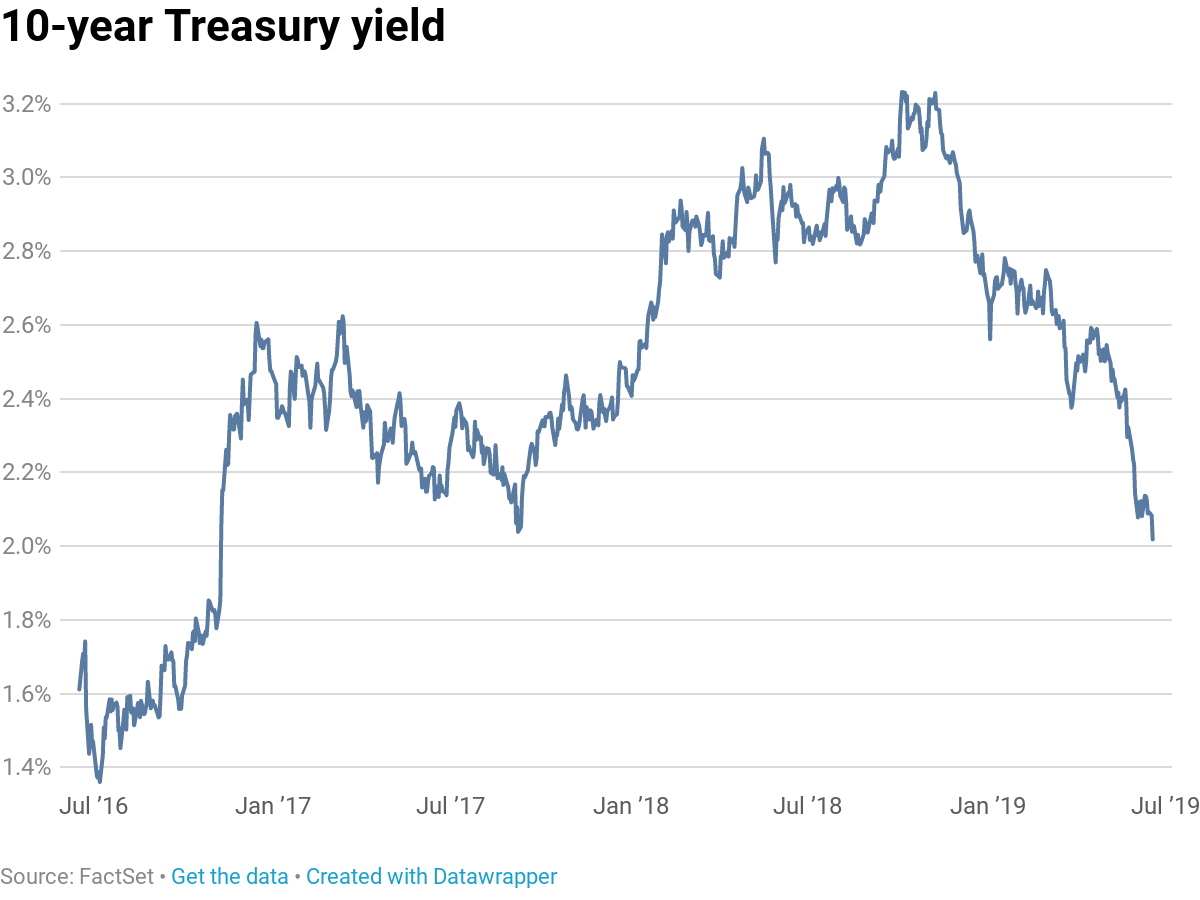 The yield on the benchmark 10-year Treasury note fell to its lowest level since September 2017 on Tuesday as the Federal Reserve began its two-day policy meeting and European Central Bank President Mario Draghi promised further stimulus if inflation doesn't meet its target in the euro zone.
Yields moved off their lows later Tuesday morning after President Donald Trump tweeted that he will be meeting with China's Xi Jinping at the G-20 summit next week.
By 9:50 a.m. ET, the yield on the benchmark 10-year Treasury note had fallen 1 basis point to 2.07%, off a 20-month low of 2.016% hit earlier in the session. The yield on the 2-year Treasury note held steady at 1.856% while the rate on the 3-month bill held steady at 2.226%.
While the Fed is expected to leave the key interest rates unchanged in its June meeting, many expect the Chair Jerome Powell to telegraph easier monetary policy ahead.
Softer economic gauges like May's anemic jobs report and a lackluster consumer pricing print convinced many economists and fixed-income traders earlier this month that the central bank will hint at its ability to lower borrowing costs if needed.
"I think they should cut rates, and I think the discussion should instead be whether to cut 25 basis points or 50 basis points," said Jim Bianco, head of the Chicago-based advisory firm Bianco Research. "But they'll probably do what they usually do, which is wait until it's too late."
"The market has been very vocal of its pricing of expected inflation," he added. "The only thing transitory is Powell's use of the word 'transitory,'" he said, referring to the Fed chair's characterization of sluggish inflation as a temporary blip.
"We say in our statement of longer-run goals and monetary policy strategy that the Committee would be concerned if inflation were running persistently above or below 2%," Powell said last month.
"And in this case, as we look at these readings in the first quarter for core, we do see good reasons to think that some were or all of the unexpected decrease may wind up being transient," he added.
Traders are now pricing in a more than 80% chance of a rate cut in July and 70% probability of another reduction in September, according to the CME Group's FedWatch tool.
Meanwhile, ECB President Draghi said Tuesday that the central bank may need to ease monetary policy again over the coming months, possibly through new rate cuts or asset purchases, if inflation doesn't bounce back toward its target.
"In the absence of improvement, such that the sustained return of inflation to our aim is threatened, additional stimulus will be required," Draghi said.
The central bank foresees "lingering softness" on the horizon, exacerbated by geopolitical factors and trade disputes that have dampened exports and softened manufacturing.
U.S. MARKETS OVERVIEW: TREASURYS CHART
| TICKER | COMPANY | YIELD | CHANGE | %CHANGE |
| --- | --- | --- | --- | --- |
| US 3-MO | U.S. 3 Month Treasury | 2.226 | 0.028 | 0.00 |
| US 1-YR | U.S. 1 Year Treasury | 2.068 | 0.021 | 0.00 |
| US 2-YR | U.S. 2 Year Treasury | 1.856 | -0.009 | 0.00 |
| US 5-YR | U.S. 5 Year Treasury | 1.831 | -0.016 | 0.00 |
| US 10-YR | U.S. 10 Year Treasury | 2.065 | -0.021 | 0.00 |
| US 30-YR | U.S. 30 Year Treasury | 2.556 | -0.021 | 0.00 |
"With 10yr Bund yields already at extraordinarily low levels and the Eurozone economy awash in enormous levels of monetary accommodation, and with Draghi is set to step down in just a matter of months, it's difficult to see why investors should be piling into equities," wrote J.P. Morgan director Adam Crisafulli.
The dovish tone prompted a sharp drop in the euro as well as European fixed-income rates, with the 10-year German bund skidding to -0.3% for the first time ever. The yield on the French 10-year note briefly traded in negative territory for the first time ever and was last seen at zero.
Yields bounced off their lows later Tuesday morning after Trump tweeted that he had a "very good telephone conversation" with China's Xi. The president added that he will meet with Xi during next week's G-20 meeting in Japan, where the two leaders are expected to address the ongoing trade spat between the two economic powerhouses
---
The iShares 20+ Year Treasury Bond ETF (TLT) was trading at $132.04 per share on Tuesday morning, up $0.35 (+0.27%). Year-to-date, TLT has gained 4.96%, versus a 10.14% rise in the benchmark S&P 500 index during the same period.
TLT currently has an ETF Daily News SMART Grade of B (Buy), and is ranked #16 of 29 ETFs in the Government Bonds ETFs category.
---
This article is brought to you courtesy of CNBC.