The crucial numbers follow what's been a rough year for the company…
You see, investors want to know how the firm is battling flagging revenue, a management shake-up, and more.
Here are the need-to-know highlights in Twitter earnings for Q2 2015…
(We're writing in 140-character-or-less segments in the spirit of Twitter – and for amusement. Please enjoy these quick takeaways!)
Q2 2015 Twitter Earnings Rundown (NYSE:TWTR)
Earnings: FactSet analysts expect adjusted earnings of $0.04 per share. That's $0.02 per share more than the same period a year ago.
Revenue: Estimated revenue is $482 million, up 54% from a year ago, but still a slowdown in growth rate the last few quarters.
Ad sales: Estimated ad revenue of $426 million will account for most of the social media company's total sales.
Shake-up: Dick Costolo stepped down as CEO July 1. TWTR now seeks a CEO who can make a "full-time commitment." Has it selected a new chief?
Monthly active users: In Q4 2014, TWTR fell 7 million under estimates. In Q1 2015, MAUs were at 308 million, compared to FB's 1.44 billion.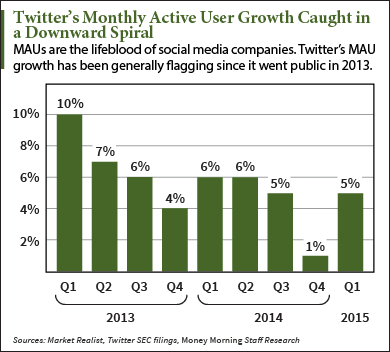 Twitter stock: Down more than 15% in the last three months, compared to a 1.1% a drop for the S&P. Will Q2 numbers make it better, or worse?
Forward guidance: Wall Street projects roughly 15.5% sequential revenue growth in the third quarter.
TWTR stock gained nearly 5% ahead of its earnings release.
The Bottom Line: TWTR earnings must show improvement in user base growth and strength in management before we'll call Twitter stock a "Buy."
Written By Tara Clarke From Money Morning
We're in the midst of the greatest investing boom in almost 60 years. And rest assured – this boom is not about to end anytime soon. You see, the flattening of the world continues to spawn new markets worth trillions of dollars; new customers that measure in the billions; an insatiable global demand for basic resources that's growing exponentially; and a technological revolution even in the most distant markets on the planet. And MoneyMorning is here to help investors profit handsomely on this seismic shift in the global economy. In fact, we believe this is where the only real fortunes will be made in the months and years to come.