Kyle Anderson: Twitter Inc. (NYSE:TWTR) has become one of the world's most popular social media companies with more than 271 million monthly active users sending more than 500 million tweets per day.
But for those looking at Twitter as an investment for the first time, there's one big question to answer: How does Twitter make money?
The short answer: Most of Twitter's revenue comes from advertising – a revenue stream that's benefitted from Twitter's explosive growth…
Here's a closer look at how Twitter operates, and how its growing revenue stream translates to profits for investors.
How Twitter Makes Money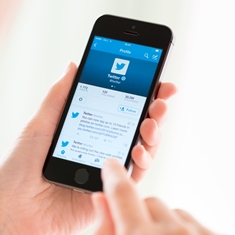 Twitter, founded in 2006 in San Francisco, allows users to send 140-character text messages – or "tweets" – to their list of followers. In 2007 the site was hosting 20,000 tweets per day, and by 2010, that figure had jumped to 50 million. Since then, the number of tweets per day has grown tenfold.
The microblogging service sees massive spikes in tweets during global events or major breaking news stories. For instance, this year's FIFA World Cup brought in more than 652 million tweets alone.
The service is available in 35 languages, and more than 77% of the site's users reside outside of the United States.
In its last earnings report, TWTR reported that its user base was growing rapidly. It reached 271 million monthly active users (MAU) at the end of July, a year-over-year gain of 24%. That news sent TWTR stock soaring 30% in one day.
Aside from the stock gain, that MAU growth was great news for investors because advertising accounts for 89% of Twitter's revenue. And the bigger Twitter's user base, the more people it can advertise to…
Twitter's $277 Million Advertising Business
In the second quarter of 2014, Twitter reported that its advertising business brought in roughly $277 million in revenue. That was an increase of 129% from the previous year.
Twitter offers three major advertising methods for reaching its growing user base.
The most popular method is promoted tweets, which allow marketers to buy tweets that show up in users' timelines like any ordinary tweet. Twitter uses an algorithm that puts these promoted tweets on the timelines of the most appropriate users. For example, if Twitter knows someone is a sports fan, they will place a promoted tweet from a sports apparel retailer on his or her timeline.
Promoted accounts is another advertising avenue, which places paid accounts in users' "Who to Follow" section or on users' timelines. Essentially, advertisers pay Twitter to promote them as a desirable account to follow.