Even though the Internet group as a whole has been climbing, not all stocks have joined the party. Yahoo (NASDAQ:YHOO) is one stock in particular that hasn't been participating, especially over the last eight or nine months.
Since peaking in November, Yahoo has been in a downward sloped trend channel that has seen the price of the stock fall over 30% at its low. The stock is attempting to rally, but it appears that will only take it up to the upper rail of the channel.
Yahoo stock also faces potential resistance from its 50-day moving average, which is between the current price and the upper rail of the channel. It is also concerning that the stock is quickly approaching overbought levels on the daily chart.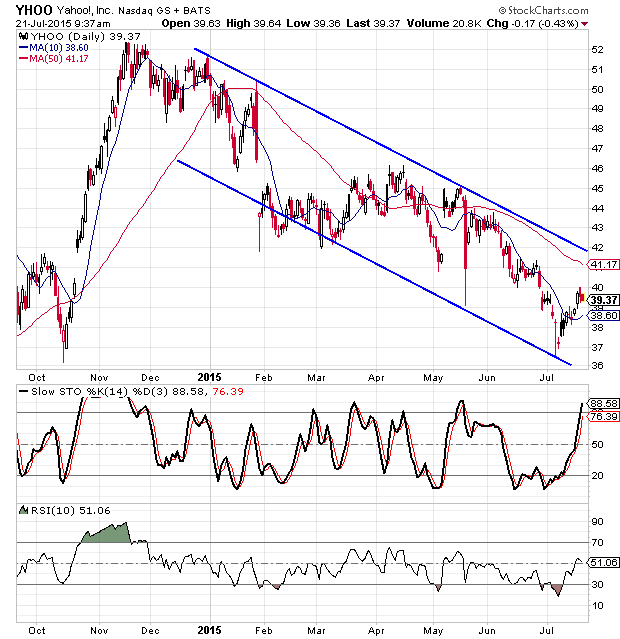 The weekly Yahoo stock chart offers very little to refute the bearish picture offered up on the daily chart, with the 13-week moving average recently making a bearish crossover of the 52-week moving average.
It is also worth noting that the trend line that represents the upper rail of the trend channel is basically right on top of the 13-week moving average. The only thing on the weekly chart that is remotely encouraging about Yahoo is that it is bouncing a little, and that brought the stock out of oversold territory.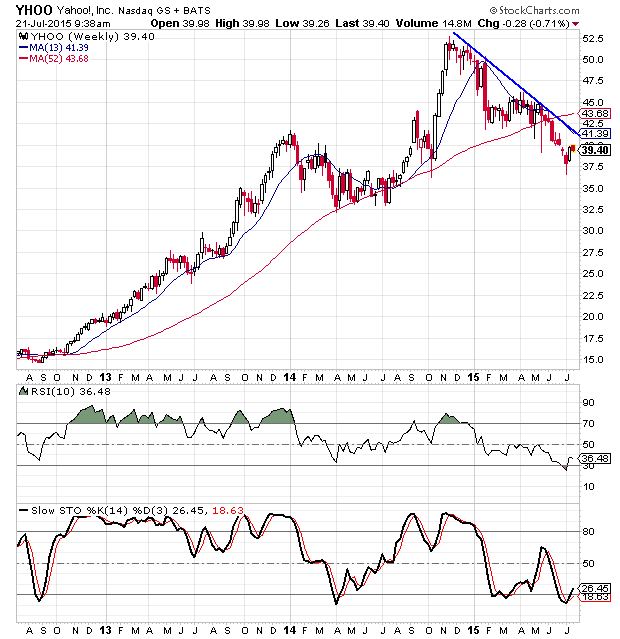 The monthly chart offers additional bearish ammunition that stems from the stock falling below the $43.50 level recently. That area served as the post-bear market high when it hit there in late 2005 to early 2006. The stock moved through that resistance last fall, but has now fallen back below it and that is concerning.
The monthly oscillators have been falling, but they are barely below the 50 level and have a ways to go before they hit oversold levels.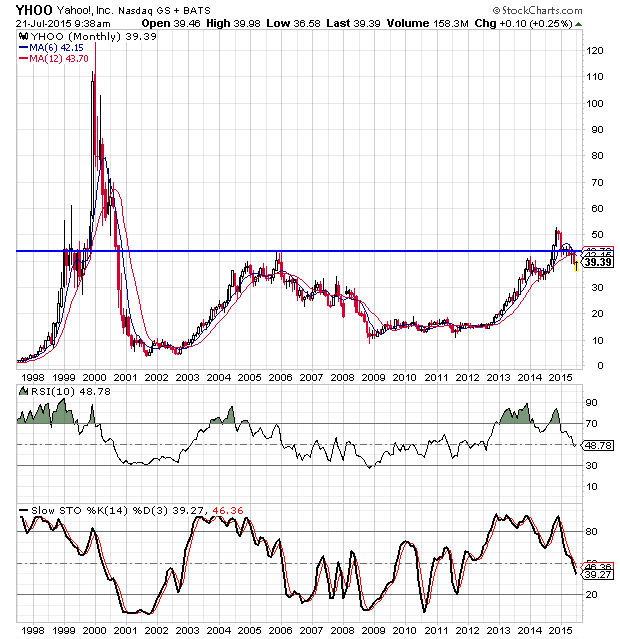 What is surprising is that despite the falling stock price, investors and analysts are still relatively bullish on the stock. The short interest ratio is currently at 2.0, and the number of shares sold short fell from 41.1 million to 31.92 million in the past month. Even with short sellers buying their short positions back, the stock hasn't been able to rally significantly.
Analysts are also rather bullish, as 25 have it rated as a "buy" and 16 have it rated as a "hold." None of the analysts following Yahoo have the stock rated as a "sell".
Given the bearish picture the charts are presenting and the bullish sentiment, I look for Yahoo stock to continue falling. I would look to short between $39 and $41.50 and I would set a target of $32.50 at the very least. As for setting a stop, if the stock closes a week above its 13-week moving average, that would be the sign for me to get out of the trade.
This article is brought to you courtesy of Rick Pendergraft from Wyatt Research.