"The trend is your friend but the fade is the ultimate wealth builder" – Tom Sosnoff.  Every trader has their own approach. There is no holy grail. It is your responsibility as a trader to find a few trading strategies that fits into your lifestyle and stick with them for life. But, make sure you diversify your strategies.
My bread and butter strategy – I use short-term extremes to fade the market.
I make the assumption that a stock or ETF will advance or decline over the short-term after a short-term extreme is reached.
If the market is extremely overbought, I make the assumption the market will move lower over the short-term (1-5 days).
If the market is extremely oversold, I make the assumption the market will move higher over the short-term (1-5 days).
Once my assumption is made, I move on to my strategy of choice.
I typically choose to sell credit spreads (which gives me some margin for error if the move continues to push in the same direction) and I also buy calls/puts to fade short-term extremes.
And, this is where options strategies add value to a stock-only portfolio.
Unlike when placing a stock-only trade, when I sell a credit spread I am able to CHOOSE my probability of success.
Take for instance the recent decline in the iPath S&P VIX Short-Term Futures (NYSEARCA:VXX). With an RSI (2) of 0.83 the volatility ETF has pushed into a short-term oversold state.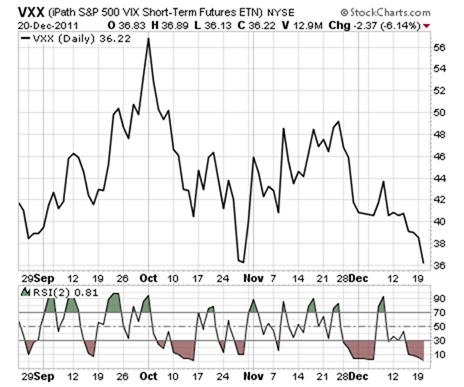 As a result, I might sell a few January bull put spreads to try and take advantage of a fade higher or even some consolidation at these levels.
The first thing I do is to choose a credit spreads with a probability of success above 65%.
By looking at the probability of expiring or the delta I can accurately choose my own probability of success. In this case I have chosen the Jan14 30/28 bull put spread with a probability of success of roughly 86% (100-14.13%). This means that the market is telling me that VXX only has a 14% chance of expiring below 30 by January options expiration in 31 days (and that includes market holidays and weekends).


Here is the trade:
Sell to open VXX Jan12 30 puts
Buy to open VXX Jan12 28 puts for a net credit of $0.22
When I say we'll collect a $0.22 net credit – that really means $22 per spread.

So if you only sell one put and buy one put (which is how the trade is outlined above) you'd collect $22. If you buy two puts and sell two puts, you'll be credited $44 – and so on.

The point is to manage your risk in a way that you're comfortable doing. If you're brand new to options trading, it might make sense to keep your position-size small.
The goal of selling the VXX vertical put (credit) spread is to have the underlying ETF, in this case VXX, close above the 30 strike at January expiration.
VXX would have to move over 20% from its current price of $36.00 before the trade begins to reach break-even. The trade will suffer its max loss if VXX moves lower than $30.
The Probability of Success – 86%

The max return on the trade is the credit of $0.22 or 12.3% over the next 31 days (January expiration).

The max loss on the trade is $1.78 per contract (remember – that's really $178 per contract!)
I hope this is helpful for some of you who are new to options. It is my goal to help you s much as I can understand some of the more effective ways to trade options and not use the highly speculative methods that have been touted over the years.
If you have any questions please do not hesitate to email me at [email protected].
Kindest,

Written By Andy Crowder For Wyatt Investment Research Disclosure: None
Wyatt Investment Research is led by founder Ian Wyatt, who serves as  Publisher and Chief Investment Strategist. Our team also includes a  group of talented research analysts and editors who aim to uncover great  investments and present those investment ideas to our growing group of  loyal subscribers.
Ian Wyatt is an active investor, a well-regarded investment expert  and an Internet entrepreneur. He is the Chief Investment Strategist at  Wyatt Investment Research, and plays a leading role in each of the  company's investment newsletters and trading services. As a  well-regarded market expert, Ian has written for Marketwatch, Zacks Investment Research, Seeking Alpha, Yahoo! Finance and The Burlington Free Press. He has been interviewed or quoted in articles in well-known publications including AOL  Finance Blogging Stocks, Kiplinger's Personal Finance Magazine, Barron  Magazine, Barrons.com, Forbes.com, The Dick Davis Digest, The Dick Davis  Income Digest, The Wall Street Transcript, TheStockAdvisors.com, Money  Show Digest, The New Jersey Star Ledger, The Wisconsin State Journal and The Seattle Times.