With VIX options expiring on Wednesday and VXX options expiring today (technically tomorrow) in the normal monthly expiration cycle, this is a big week for volatility traders who are comfortable holding options positions into expiration.
One of the things I like about expiration week is the manner in which time and volatility can sometimes become distorted, presenting some interesting trading opportunities.
Looking at the implied volatility of the iPath S&P 500 VIX Short-Term Futures ETN (NYSE:VXX) this week, one can see that August IV (red line) was tracking in a fairly tight range of 60-70 from Monday through Wednesday. Yesterday saw a little more noise and some IV spikes into the upper 70s. Today there has been a quantum change in implied volatility, with (NYSE:VXX) IV shooting up over 120 and gyrating wildly throughout the session, as the chart below shows. Interestingly, the underlying (NYSE:VXX) ETF has not been particularly volatile today. I attribute much of the erratic change in implied volatility to the approach of options expiration.
While (NYSE:VXX) options are certainly not for the faint of heart, particularly during expiration, in my opinion these newfangled products are just the place where retail traders are more likely to be able to find an edge than some of the better-known institutional warhorses.
Related posts: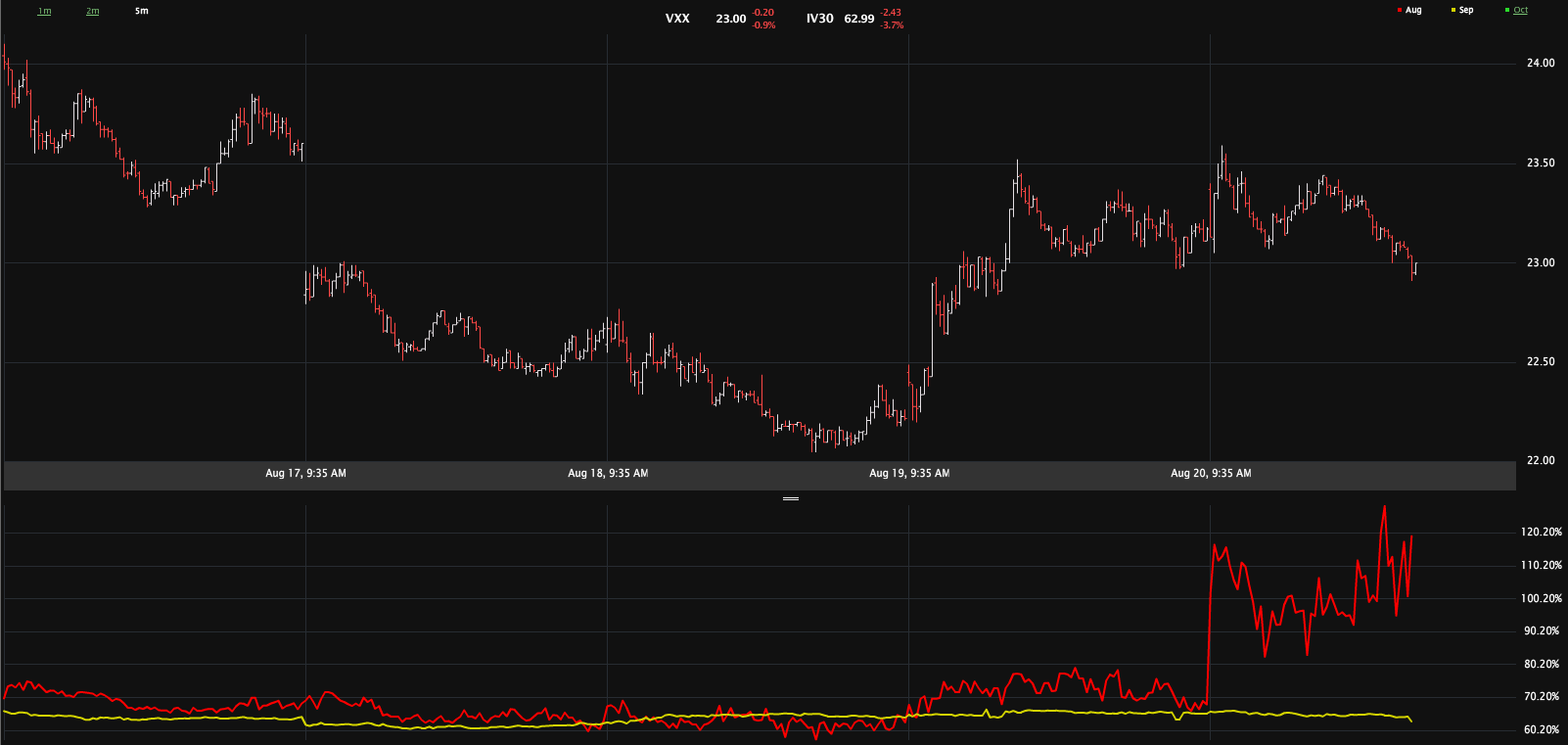 [source: Livevol Pro]
Bill is a private investor who also authors the VIX and More (http://vixandmore.blogspot.com/) blog and an investment newsletter from just north of San Francisco. His research and trading interests focus on volatility, market sentiment, technical analysis, and ETFs. Prior to becoming a full-time investor, Bill was a business strategy consultant for two decades and advised clients across a broad range of industries on issues such as strategy formulation, strategy implementation, and metrics. When not trading or blogging, he can often be found running, hiking, and kayaking in Northern California. Bill has a BA from Stanford University and an MBA from Carnegie-Mellon University.