Thanks to a tweet from Adam Warner of the Daily Options Report for alerting me to the fact that VXX optionshave just been added to the list of 28 indices, ETFs and stocks on which the CBOE is now trading weekly options, or as the exchange calls them, weeklys.
The iPath S&P 500 VIX Short-Term Futures ETN (NYSE:VXX) and VXX options are two subjects I have covered in considerable detail over the course of the past two years, so rather than repeat myself, I will encourage readers to start with the links to older posts on the subject toward the bottom of this post or refer to the keyword links herein and labels at the very bottom of this post.
Weekly options are the new kid on the block and something I jumped on early and have enjoyed, particularly as someone who has been an aggressive seller of options over the course of the last 1 ½ years. Again, there are links above and below for readers to find some of what I have said on the subject to date.
I should also note, however, that the August issue of Expiring Monthly: The Option Traders Journal(published on Monday) has three articles on weekly options, including a guest article from Vance Harwood of the Six Figure Investing blog. Farther afield, Steven Searsof Barron's tackles the subject of weeklys in today's The Striking Price column: The Weeklys Get Stronger.
Below I have included a watch list I set up on Livevol Prothat has this week's 28 weekly options plus next week's addition, VXX, sorted by call volume. Note that VXX replaces Dendreon (DNDN) and brings the current breakout of weeklys to 12 equities, 11 ETFs and 5 indices.
Related posts: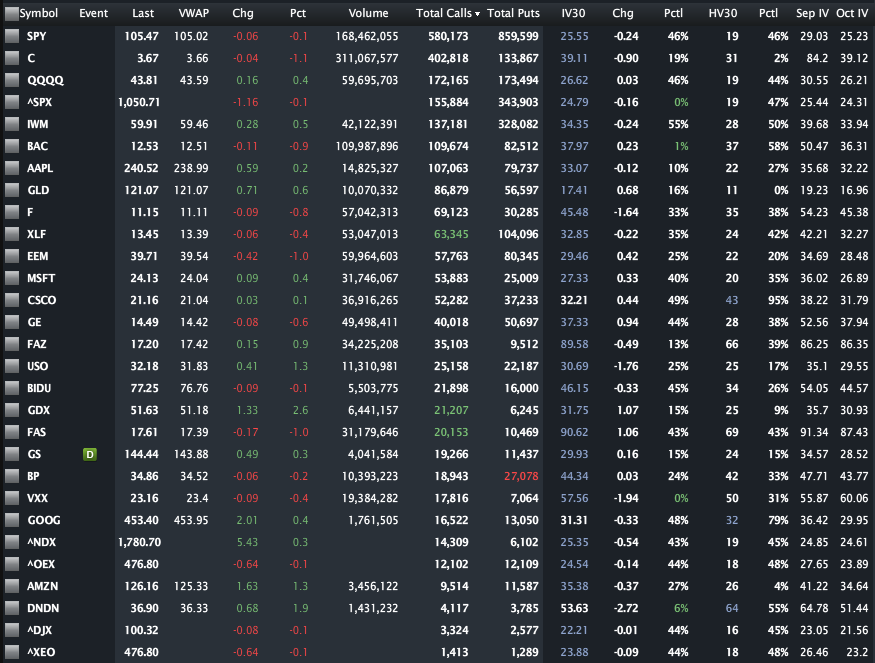 [source: Livevol Pro]
Disclosure(s): short VXX at time of writing; Livevol is an advertiser on VIX and More
Bill is a private investor who also authors the VIX and More (http://vixandmore.blogspot.com/) blog and an investment newsletter from just north of San Francisco. His research and trading interests focus on volatility, market sentiment, technical analysis, and ETFs. Prior to becoming a full-time investor, Bill was a business strategy consultant for two decades and advised clients across a broad range of industries on issues such as strategy formulation, strategy implementation, and metrics. When not trading or blogging, he can often be found running, hiking, and kayaking in Northern California. Bill has a BA from Stanford University and an MBA from Carnegie-Mellon University.