Diane Alter:  The Wal-Mart (NYSE:WMT) stock price slipped 3% to $69.55 Tuesday morning after Q2 earnings missed estimates and forward guidance disappointed.
The retail giant posted earnings per share (EPS) of $1.08.
That was short of the $1.12 consensus forecast.
Net income came in at $3.48 billion, down from $4.09 billion in the same quarter a year ago.
For Q3, WMT is projecting EPS between $0.93 and $1.05.
The company also lowered its full-year guidance.
The Bentonville, Ark.-based company expects full-year EPS between $4.40 and $4.70.
That's down from previous guidance between $4.70 and $5.05.
The market consensus was $4.70.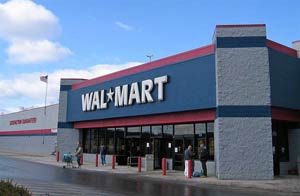 That guidance revision is the main reason the Wal-Mart stock price is falling today.
"We're talking about $4.55 at the midpoint of the new range.
The Street's at about $4.75, $4.76, so $0.20 less than the Street… is a pretty big deal for a company like Wal-Mart," Patrick McKeever, senior equity analyst at MKM Partners, told CNBC.
The company also said it now plans to open 160 to 170 of its smaller format stores this year, down from a previous plan for 180 to 200 stores.
The company also said its commitment to higher wages and additional hours for employees will continue to put pressure on operating profit.
Wal-Mart is one of the largest private employers in the United States and Canada.
Its headcount globally is more than 2.2 million, with some 1.3 million employees in the United States alone.
In February, Wal-Mart announced it would raise employees' starting wage to $9 an hour.
By next year, it is aiming for $10 an hour.
The company is also investing heavily in store operations, customer service, and e-commerce.
This summer, Wal-Mart began testing an unlimited free shipping service similar to Amazon Prime and has been opening more fulfillment centers to make online orders more efficient.
While the guidance figures are pushing WMT stock lower, there were some bright spots in WMT's Q2 earnings report.
Revenue came in at $120.2 billion, up from $120.1 billion year over year.