"This market instability is not going away.
It's been building for six years. It can only end one way – with a 'Super Crash,'" Money Morning Global Credit Strategist Michael E. Lewitt told readers back on Sept. 8.
"It's not just China that's creating this next (much worse) sell-off. It's also the massive, $200 trillion global debt bubble that's driving the world economy to its knees."
Now, it seems, major media outlets are finally catching on…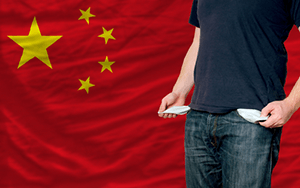 The Global Debt Crisis Is Far from a "Fringe Theory"
This week, Salon's Bob Hennelly, an award-winning investigative journalist, wrote a well-researched piece that concluded "trillions of dollars of investment in emerging markets has been fueled by cheap credit – and the bill's coming due."
"This time it won't be a U.S. domestic mortgage crisis that goes global, it will be a global debt crisis that goes local," Hennelly wrote on Oct. 14. "The geniuses that have been driving our policy choices since World War II wanted a globally integrated economy and now they have one.
In the last ten years, China and the emerging markets have racked up huge amounts of public and private sector debt, which they used to finance a production capacity that there just wasn't the consumer demand to justify."
You see, for years, China has financed a good part of the U.S. federal budget deficit.
And now the Chinese economy's staggering growth rate has drastically slowed, hurting the American economy as well as the rest of the world.
This summer offered a preview of exactly what lays ahead…
Between Puerto Rico's insolvency, Greece's default, and China's stock market crash and desperate currency devaluation, U.S. markets suffered the biggest one-day drop in Dow Jones Industrial Average history on Aug. 24.
That day – "Black Monday" – showed symptoms of a grossly over-indebted world beginning to come due.
"It may look like we're handling this correction like it's no big deal," Lewitt said on Sept. 8.
"But we're not simply putting off the Super Crash; we're actually making the ultimate crash worse by delaying the inevitable market adjustments that have to happen."
China's woes are part of a $200 trillion global debt crisis that will inflict serious damage on portfolios and retirement accounts.
"As I keep telling my clients and my readers, we're getting close to an 'inflection point,'" Lewitt told readers.
"For years, China has financed a good part of our federal budget deficit. Now, China's economy is tumbling and hurting the U.S. economy and the rest of the world."
Written By Tara Clarke From Money Morning
We're in the midst of the greatest investing boom in almost 60 years. And rest assured – this boom is not about to end anytime soon. You see, the flattening of the world continues to spawn new markets worth trillions of dollars; new customers that measure in the billions; an insatiable global demand for basic resources that's growing exponentially; and a technological revolution even in the most distant markets on the planet. And MoneyMorning is here to help investors profit handsomely on this seismic shift in the global economy. In fact, we believe this is where the only real fortunes will be made in the months and years to come.