I got a weekly confirmed sell on the s&p 500 to end last week.  The weekly candle on the sp500 looks quite bearish going into this week.  I suspect we will bounce higher early in the week for a typical mutual fund Monday but then end the week very hard down. (Played with the S&P 500 ETF (NYSE:SPY))
The most recent two weekly candlesticks look similar to two other monthly candlesticks that occurred way back in 2002.  I don't know if they fit a precise candlestick pattern setup but I think the comparison is still interesting.
The first weekly candle was a belt hold candle strong full candle down.   Then the next candle was an attempt at a rally but then a failure and showed a topping tail and closed near the low of the candle.  In 2002 that led to the next month being hard down.
Since the current pattern is weekly one would presume that the next week will end hard down by Friday.
I think we break below 1063 by end of this upcoming week.  Ideally an early bounce this week would not get above the 50 day moving average at 1090.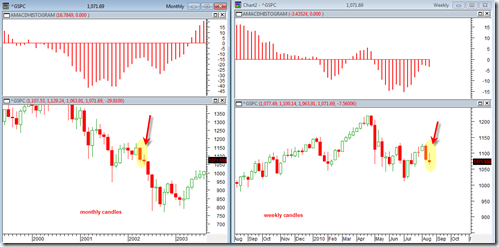 I really have not talked much at all about the large head and shoulders topping pattern in development.  But that is still in play here as well.  The right shoulder appears to be on quick formation now and should slice through the neckline as a break of support.
Written By Tom From Best Online Trades
BestOnlineTrades covers many different aspects of trading, from commodities to stocks, from indices to ETF's.