It is understood that precious metals investors are getting fed up with the action in the sector, as gold and silver backed off sharply yet again from resistance last Wednesday, yet this is nothing to be concerned about as both remain well above recent support levels. We know that COTs for silver are more bullish than at any time in history, or at least the past 15 years, so no problem there.
Now we will look at the latest COT charts (new ones will be available at the weekend, which will be most interesting) for gold and silver, to see how close we are to the decks being cleared for the new bull market.We'll start with silver as its COT situation is very clear and requires little explanation.
Silver's latest COT shows that, for the first time since the site started 15 years ago, the habitually wrong Large Specs have not only given up on silver, they have actually started going short, THIS IS AS FLAT OUT BULLISH AS IT GETS, and anyone who truly understands this is not going to get ruffled by down days like last Wednesday; on the contrary they will see them as an opportunity to accumulate further before the great bull market starts.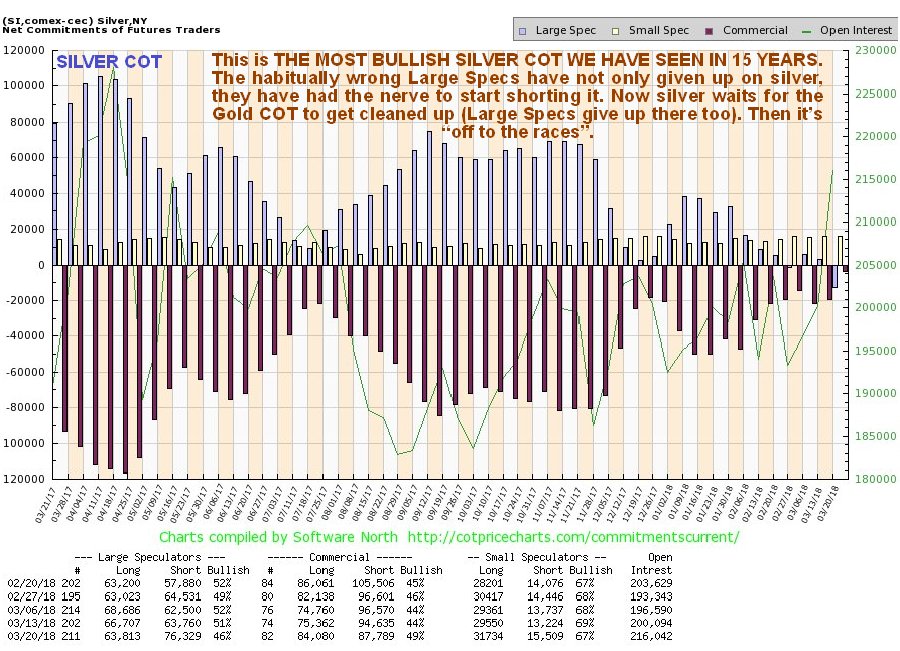 Click on chart to pop-up a larger, clearer version.

Gold's COT is a different story–the Large Specs are still too confident, still have too high long positions–ideally they should be driven out before the next big bull market starts, and the good news is that this now seems to be happening, as their positions have reduced over the past several weeks, and the impact of gold's drop of the past few days, which unfortunately we won't be able to see until the end of next week (because in this age of instant communication, Big Money holds back their publication by three days to disadvantage the little guy), may be substantial and result in them dropping to levels that are more definitely bullish and set the stage for a new bull market. Note that this could yet take several weeks, and this time should be used to build positions across the sector, taking advantage of short-term weakness and misplaced doubt and vacillation among the majority of investors. You should shovel the best silver stocks on board as fast as fast as you can, because they are not going to be on offer at these silly prices for much longer.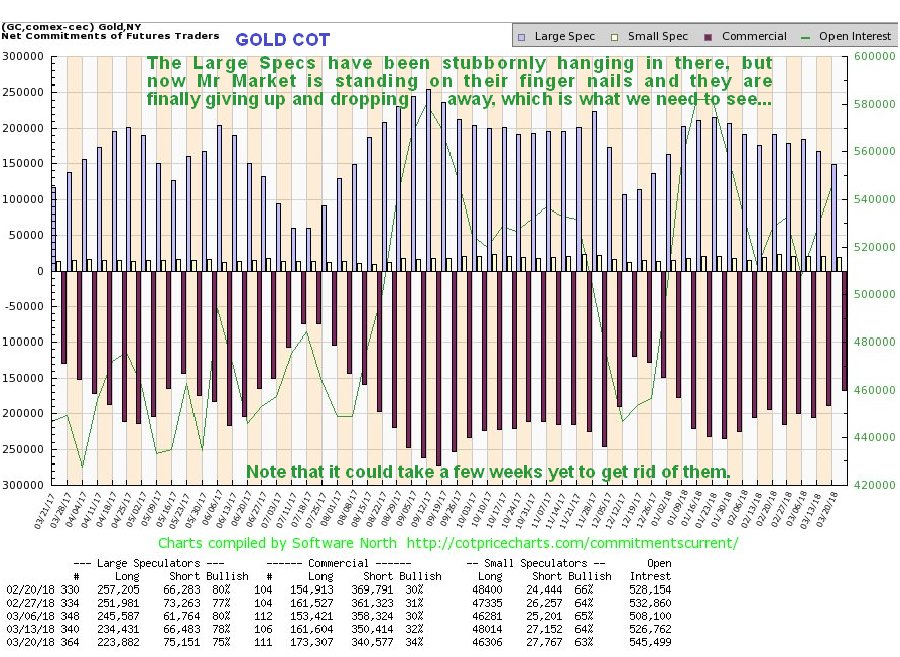 Click on chart to popup a larger, clearer version.
---
The iShares Gold Trust ETF (IAU) was unchanged in premarket trading Wednesday. Year-to-date, IAU has gained 2.24%, versus a -2.28% rise in the benchmark S&P 500 index during the same period.
IAU currently has an ETF Daily News SMART Grade of A (Strong Buy), and is ranked #2 of 35 ETFs in the Precious Metals ETFs category.
---
This article is brought to you courtesy of Streetwise Reports.