Kyle Anderson: The Dow Jones Industrial Average (INDEXDJX:.DJI) tumbled 326 points (2.1%) on Feb. 3, triggering a flood of stock market crash talk.
January wasn't any better – the Dow suffered its worst January since 2009 and its worst month since May 2012, deflating 5.3%. (The S&P 500 slid 3.6%, also its worst monthly performance since May 2012, and the Nasdaq dropped 1.7%, its worst since October 2012.)
Three factors are making market-watchers fearful of a full-blown stock market crash:
The Dow climbed 27.36% in 2013.
An official market correction – defined as a decline of 10% or more – hasn't happened since 2011.
The VIX, Wall Street's volatility measure and "fear gauge," climbed almost 9% on Feb. 3, its highest level since October 2013.
But 2014's one-day slips in the Dow are about half as big as the worst daily point drops in Dow history.
Here are the 10 largest one-day plunges ever in the Dow's closing value. Note: These are not the largest changes during the trading day (intraday).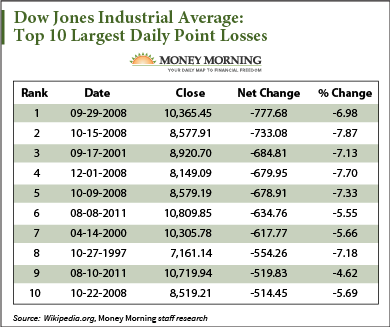 What Triggered the Top 10 Single-Day Stock Market Crashes
The biggest ever single-day crash on Sept. 29, 2008, came after the U.S. House of Representatives rejected the government's $700 billion bank bailout plan. This Dow drop obliterated $1.2 trillion in market value.
Want More Great Investing Ideas?