Jim Bach: Silver prices are down slightly to open the week, but have barely budged this morning (Tuesday) as foreign policy tensions heighten over Russian sanctions and clashes in the Gaza Strip.
New York Spot silver was trading at $20.56 an ounce by 5:15 p.m. EDT yesterday (Monday), when silver trading halts temporarily until picking back up at 6 p.m. That price was a $0.16 decline from Friday's close. Comex silver for September delivery was also down $0.07 from Friday at the close of markets yesterday.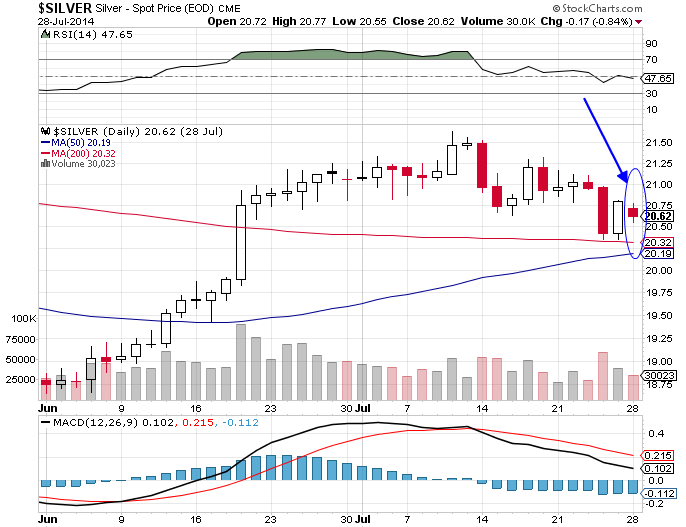 iShares Silver Trust (NYSE Arca: SLV), an ETF that tracks the performance of silver and holds physical silver bullion in London and New York, was down $0.06 at yesterday's close.
At 9:30 a.m. EDT Tuesday, spot silver was up slightly to $20.62, and was trading as high as $20.73 at 4:20 a.m. EDT, but as of 10 a.m. was back to $20.56.
This slight and momentary uptick comes after Israeli Prime Minister Benjamin Netanyahu signaled that tensions were going to escalate in Israel's clashes with Hamas in the Gaza Strip. This was after U.S. Secretary of State John Kerry went on a six-day diplomatic mission that only yielded a fragile humanitarian ceasefire that broke down after 12 hours on Saturday. This is after three weeks of fighting in Gaza.
Also, the U.S. and the European Union have made clear their intentions to level sanctions against President Vladimir Putin's Russia for supporting pro-Russian rebels in Ukrainian territory, and acting as a destabilizing force.
Silver, similar to gold, becomes a more sought after investment when there is uncertainty in the economy as well as on the global stage. Any perceived threats to the stability of the U.S. currency or to equity markets attracts investors to precious metals because they are looked on as a store of value and a hedge against trying economic and geopolitical times.