Right now, Rogers likes several markets others are running away from – but his current favorite is Russia.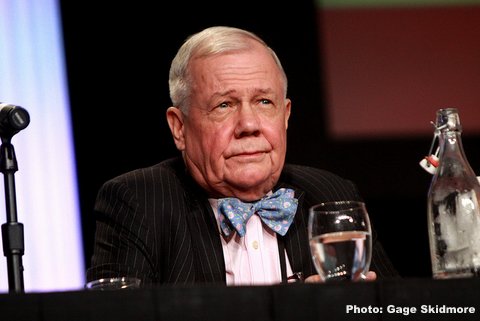 Russia? With all the tumult going on with Ukraine that has sunk the Russian ruble and tanked Russian stocks?
"That sounds wonderful, doesn't it?" Rogers told Maria Bartiromo on her "Opening Bell" program on FOX Business today (Tuesday). "I know your parents taught you to buy low and sell high. Russia is hated. It's probably the second-most hated after Argentina. It's got vast natural resources. It's got a freely convertible currency. I don't see any reason not to step in where there's blood in the streets."
Money Morning Chief Investment Strategist Keith Fitz-Gerald agrees with Rogers. In fact, Fitz-Gerald was urging investors to consider Russia more than two months ago.
"Don't get me wrong. I don't think Russia will be a cake walk," Fitz-Gerald said. "But there's going to be tons of opportunity, too. Even if you're early to the trade, the upside is hundreds of percent here. Despite short-term momentum against it, the country has significant potential."
Buying when things look their worst is just a good way to lock in some future gains, he said, "because prices often move much higher when things simply become 'less bad.'"
Figuring out how to play Russia is a bit more complicated. Jim Rogers said he owns shares of the Moscow Stock Exchange (MCX: MOEX), although buying it is a bit tricky for most U.S. investors because the shares only trade on the Moscow exchange itself.
Rogers said he owns Aeroflot (MCX: AFLT), which also trades on the Moscow exchange, as well as some ETFs he did not name. One ETF that exclusively tracks Russian stocks, however, is the Market Vector Russia ETF Trust (NYSE Arca: RSX).
Rogers also talked about two other little-loved countries where he's buying right now…
Jim Rogers Is Investing in Two Big Asian Markets, Too
Rogers said he was also investing in China, though not as heavily as Russia.
While China was a Wall Street darling a couple of years ago, news of its slowing economy has soured some investors on the Asian giant.
Not Rogers, though.
"I am buying a little bit in China," Rogers said in a separate interview on Yahoo's The Daily Ticker. "They still have a big debt problem which worries me a lot, but I have started buying."
Rogers explained that what got his attention was a big national conference last November.
"They said, 'This is what we're going to spend our money on in the next 20 years.' Now, they've got more money than I do, and they're smarter than I am, and if they're going to put a lot of money into some sectors of the Chinese economy, I am, too," Rogers said.
Talk of the Chinese government opening up its financial sector has inspired Rogers to invest some money in that sector.
Rogers also likes Japan, despite the decades of stagnation that have plagued that one-time powerhouse of an economy.
"I have bought Japan and I am looking to buy more in Japan," Rogers said on "Opening Bell," and his reasoning is simple.
"[Prime Minister Shinzo] Abe is going to ruin Japan – you must understand this," Rogers said. "But, in the meantime, he has said, 'I'm going to print unlimited amounts of money and I will spend unlimited amounts of money.' That money's got to go somewhere, and one place it has been going and will go is into the stock market."
To play Japan, Rogers said he owns the Wisdom Tree Japan Hedged Equity Fund (NYSEARCA:DXJ) and some Japanese blue chips like NTT Docomo Inc. (NYSE ADR: DCM).
Rogers also discussed several markets that he's avoiding now.
Jim Rogers Is Down on These Markets Right Now
One place Jim Rogers doesn't like now is India.
"I wouldn't buy India," Rogers said. "It's a shambles. It's got gigantic debt. Everybody has done studies that show when debt gets over 90% to GDP, it's very difficult to grow. Well, they're there. People ignore that when they talk about India. Plus it's a bureaucratic nightmare, plus they don't like each other. I could go on and on."
And, finally, Rogers isn't all that crazy about the U.S. stock market at the moment.
"The [U.S.] stock market is making all-time highs," Rogers said. "My parents taught me to buy low and sell high. Why would I buy something at the all-time high when I can look around and find things that are low?"
Written By David Zeiler From Money Morning
We're in the midst of the greatest investing boom in almost 60  years.  And rest assured – this boom is not about to end anytime soon.  You see, the flattening of the world continues to spawn new markets  worth trillions of dollars; new customers that measure in the billions;  an insatiable global demand for basic resources that's growing   exponentially; and a technological revolution even in the most distant  markets on the planet.  And Money Morning is here to help investors profit handsomely on this seismic shift in the global economy. In fact,  we believe this is where the only real fortunes will be made in the  months and years to come.