and it may not get there in the next few weeks either. The stock is overbought based on the daily slow stochastic readings and those readings just made a bearish crossover.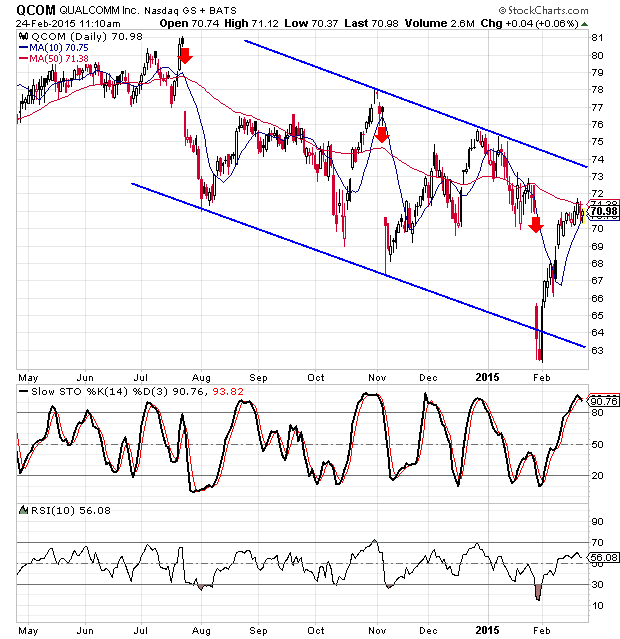 The last few times we have seen a bearish crossover by the slow stochastic readings, the stock has gone through a pretty decent downswing. The crossover in late December came just ahead of a 16.8% drop, the one in early December came just ahead of a 7% decline and the one in late October preceded a 13.8% drop.
Another element on the daily chart of QCOM is the number of big downward gaps. We see them in July 2014, November 2014 and one occurred just a few weeks ago. All three of these gaps were created from earnings announcements, which isn't surprising. It is surprising to see all of them be downward gaps though. The good news is that Qualcomm doesn't release its next earnings report until April 22. There will be lots of movement between now and then, but I don't think I would go into the earnings announcement holding the stock unless I had some protective puts.
Looking at the sentiment toward QCOM, we see that investors are pretty optimistic toward the stock. The short interest ratio is a paltry 1.0 and the put/call ratio is in the 40 percentile range. There are 38 analyst ratings on QCOM with 26 of them being "buy" ratings, 11 "hold" ratings and only one "sell" rating.
Given the current overbought status and the overly optimistic sentiment outlook, I would be looking to make a bearish bet on Qualcomm for the next few weeks. The bearish crossover of the stochastic readings and how these events have predicted drops in the recent past is probably enough to warrant a bearish play. When you add the extremely bullish sentiment, it adds additional drivers to justify the trade.
With Qualcomm stock hovering around the $71 level and potential support at the $62.26 area, there is still the potential for a 12% to 13% drop. Put options are probably the best way to go and which strike is up to you. At the time of this writing, the asking price on the March 72.50 strike puts is $2.42. In that instance, you would double your money should the stock drop down to $67.66 and if there wasn't any time premium left in the options price—strictly intrinsic value. If you want to be more conservative and count on the upper rail restricting any upside movement, the March 75 strike puts have an asking price of $5.20 at this time.
This article is brought to you courtesy of Rick Pendergraft from Wyatt Research.