Silver prices hit a new low yesterday (Thursday), closing at $16.46 an ounce. This beat out the four-year low silver hit earlier this month when it closed at $16.855.
This is a 3% decline on the month, and a disappointing 16% on the year.
And it dove even further to below $16 this morning.
Traders flocked to silver earlier this month, as markets were headed for a correction. The Dow Jones Industrial Average fell almost 7% before rebounding earlier this week.
With equities now performing so well, traders are selling off precious metals.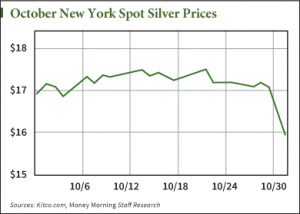 And it's not just the red hot stock market that's clobbering silver. The European Central Bank has been eyeing stimulus for a while now.
Having cut Eurozone rates to historic lows, ECB president Mario Draghi is running out of measures to reverse a troubling disinflationary trend in the region.
His final option: European quantitative easing. A massive bond-buying spree seems to be the only thing that will pour money back into the economy and support a recovery for the struggling Eurozone.
While European QE hasn't happened yet, inflation picked up in the Eurozone this month. Also, the mere expectation of QE has investors going short on the euro in hopes of a longer-term devaluation.
The Bank of Japan also announced this week it would expand its own QE program.
An expansion of this already invasive QE helps round out a perfect confluence of factors to strengthen the dollar…
…and weaken silver.
Inflation is particularly good for silver. An eroding dollar will prompt a currency sell-off and make getting into alternative investments an attractive inflation hedge.
But the dollar's value has only been going up. The U.S. Dollar Index is up near four-year highs at yesterday's close, and this morning it looks to take out the four-year highs it established earlier this month.
More short-term downward pressure on silver comes from the silver futures markets.
On Sept. 30, the volume of silver short-selling hit a new all-time high. Speculators held 51,344 contracts short backed by 256.7 million ounces of silver.
With silver at four-year lows, you'd expect short sellers to capture gains and cover their positions. And with such a high volume, this short covering would no doubt provide a huge boost to silver prices.
However, this hasn't happened…yet.
In the three weeks to follow the new record-high short position, these speculators have only shed 6.4 million ounces. This isn't nearly enough short covering to help propel prices and build a meaningful rally.
So here's how we leave October: hot markets, a strengthening dollar, and historic bear sentiment.
Looks bleak – but actually, there's a lot for silver bulls to look forward to in November …
Predictions for November Silver Prices
"I believe the regular markets are back in bull mode, and that will suck money away from the precious metals," Money Morning Resource Specialist Peter Krauth said. "November's elections could provide support for silver, but continued market strength could well remain a headwind for the silver price."
Silver prices in November will have a series of factors keeping a lid on gains. But there is hope.
The demand fundamentals for silver are more than sound. The white metal is getting a big endorsement from the industrial side right now.
Expected production growth in a number of industries will provide an additional 20 million ounces of demand by 2018, according to the Silver Institute. Metals Focus predicts silver demand to outpace GDP growth from 2014 to 2016.
Another encouraging signal for silver going into November is the silver futures market activity mentioned earlier.
Short positions are unsustainably high on the white metal, especially with prices falling as low as they have. Silver exchange-traded funds have been beefing up their holdings recently and it's only a matter of time before big purchases of the physical metal by institutional buyers, as well as massive short covering, will begin to move prices forward.
And what's more encouraging is that the same futures activity is present in the gold market.
Silver moves in line with gold prices, albeit in a more volatile manner. As money pours into gold, residual precious metal interest shows up in the silver market.
Only in the silver market, the volume is much lower. So a minor sell-off in gold could make a much bigger splash for silver. The opposite is also true, though; a small buying spree in gold can set silver prices soaring.
As it stands, gold is experiencing record highs in short positions.
Short-side speculators are currently holding 10.6 million ounces of gold in futures contracts.
With both metals at high levels of bearish speculation, the best hope for short-term gains will come from massive short covering going into 2015.
The last time silver experienced a short squeeze was this past summer.
Shorts established a new record – which has since been bested by this current round of bears – in early June and silver was trading at $18.76 an ounce. Short covering over the next month propelled it 14% to $21.445 by early July.
With silver currently trading around $16, a similar short squeeze would push silver to around $18.25 in the next month, but it could be slightly higher given that shorts are also slightly higher.
Written By Jim Bach From Money Morning
We're in the midst of the greatest investing boom in almost 60 years. And rest assured – this boom is not about to end anytime soon. You see, the flattening of the world continues to spawn new markets worth trillions of dollars; new customers that measure in the billions; an insatiable global demand for basic resources that's growing exponentially; and a technological revolution even in the most distant markets on the planet.And Money Morning is here to help investors profit handsomely on this seismic shift in the global economy. In fact, we believe this is where the only real fortunes will be made in the months and years to come.